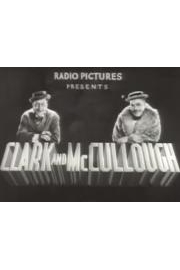 Watch Clark And McCullough
Clark and McCullough was an American vaudeville comedy duo who rose to fame in the 1920s and 1930s. Their unique brand of comedy was characterized by their fast-talking patter, zany antics, and ability to adapt to any situation. They were known for their sharp wit, impeccable timing, and their ability to create laughter in the audiences they entertained.
The duo consisted of two performers, Bobby Clark and Paul McCullough, who first met in high school in Massachusetts. They began performing in vaudeville shows in the 1910s and continued through the 1930s, eventually transitioning to film and radio. Although they were active in a time before the invention of television, many of their performances have been preserved and can be viewed on Best TV Ever.
Clark and McCullough's comedy routines were often centered around their misadventures in everyday situations, such as shopping or trying to catch a train. Their humor was characterized by their quick wit, physical comedy, and their ability to turn mundane situations into comedic gold. They were also known for their use of wordplay and double entendres, which allowed them to create comedy that was both clever and risqué.
One of the duo's most famous routines, entitled "The Drunk Scene," involved Clark and McCullough portraying two drunk men who stumble into various situations, such as attempting to buy a hot dog from a street vendor or trying to sneak into a movie theater. Their ability to improvise and adapt to each other's impulses made this routine a favorite among audiences and is still considered one of their best performances.
In addition to their comedy routines, Clark and McCullough were also talented musicians, and often incorporated music into their performances. They played various instruments, including the piano, trumpet, and accordion, and their musical interludes were always well-received by audiences.
The duo's fame extended beyond vaudeville and into radio and film. They made several films during the 1930s, including "The Cat and the Canary" and "Sons of the Desert," both of which are considered classics of the comedy genre. They also appeared on numerous radio programs, including "The Rudy Vallee Show" and "The Bing Crosby Show."
Despite their success, Clark and McCullough's partnership was not without its ups and downs. They reportedly had a difficult working relationship and often clashed over creative decisions. However, their undeniable talent and ability to make audiences laugh kept them together for over two decades.
Sadly, their partnership came to an end in 1936 when McCullough died of a heart attack at the age of 45. In the years since, their legacy has lived on, with their performances remaining popular among comedy fans of all ages.
Overall, Clark and McCullough were a trailblazing comedy duo whose influence can still be seen in the work of modern comedians. Their ability to make audiences laugh with their quick wit, physical comedy, and musical talents cemented their place in history as one of the greatest comedy teams of all time.
Clark And McCullough is a series that is currently running and has 1 seasons (4 episodes). The series first aired on August 28, 2017.