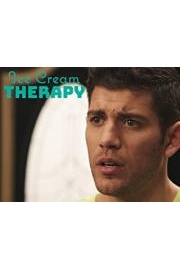 Watch Ice Cream Therapy
Ice Cream Therapy is a hilarious show from Funny Or Die starring two of the internet's most beloved personalities: JP Sears and Gabbie Hanna. As the title suggests, the show revolves around ice cream and therapy – two things that, on their own, are already pretty great. But when put together, they create something truly special.
The concept of the show is simple: JP and Gabbie each take turns being the therapist and the patient, and they use ice cream as a prop to illustrate their points. But what starts out as a silly premise quickly turns into a genuinely insightful and touching therapy session.
The show opens with JP and Gabbie sitting in a cozy living room, surrounded by a variety of ice cream flavors. JP, who is playing the therapist in this episode, starts things off by asking Gabbie how she's feeling. Gabbie, who is playing the patient, says that she's been feeling really stressed lately, and that she doesn't know how to cope with everything that's going on in her life.
JP nods understandingly, and then he picks up a pint of ice cream and starts using it to make analogies for Gabbie's problems. For example, he might say something like, "This ice cream represents your stress, Gabbie. It's just one flavor, but it's taking up all the room in your brain. You need to scoop it out and make room for other things."
At first glance, this might seem like a silly way to approach therapy. But as the episode continues, it becomes clear that there's something really powerful about using ice cream as a metaphor for our emotions. Ice cream is something that almost everyone loves, and it's associated with happy memories and good times. By using ice cream to talk about difficult feelings, JP and Gabbie are able to create a safe space where they can be vulnerable and honest.
One of the things that makes Ice Cream Therapy so compelling is the chemistry between JP and Gabbie. They're both incredibly talented comedians and YouTubers, and they have a natural rapport that makes the show feel like a conversation between two old friends. They're able to riff off of each other's jokes and build on each other's points in a way that keeps the audience engaged and entertained.
But what's really remarkable about the show is the way that JP and Gabbie are able to use humor to talk about serious topics. They tackle issues like anxiety, depression, and relationship problems in a way that's both relatable and funny. They're not afraid to be vulnerable and share their own struggles, which makes it easier for the audience to open up as well.
Overall, Ice Cream Therapy is a delightful show that manages to be both silly and profound at the same time. It's a testament to the power of comedy and connection, and it's a must-watch for anyone who's ever struggled to navigate their emotions. So grab a pint of your favorite flavor, sit back, and enjoy the therapy session.