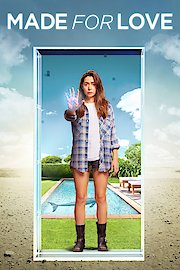 Watch Made For Love
TV-MA
2021
2 Seasons
Set in the not-too-distant future, Made For Love tells the story of Hazel Green (played by Cristin Milioti), who has just fled from her controlling tech billionaire husband, Byron Gogol (Billy Magnussen), after ten years of being married to him. Desperate to find a way out of her situation, Hazel returns to her father's home only to find out that he has already moved on with a synthetic partner named Diane (Patti Harrison).
Hazel's story is one of survival as she tries to pick up the pieces of her life and get back to her true self. She is haunted by her husband's obsession with technology, which has driven him to create a chip that allows him to have a complete understanding of her thoughts and feelings. Hazel's every move is constantly monitored and even her most intimate moments are no longer private. Her only hope is to navigate through a series of dangerous obstacles and find a way out of her predicament.
The show explores contemporary themes like artificial intelligence, control, privacy, and the human desire to escape from the modern world's excesses. It also deals with the idea of technology as a tool for control and as a means of isolation. The show's creators don't shy away from depicting the dark side of modern technology.
One of the most significant features of Made For Love is the way that it subverts the traditional romantic comedy genre by injecting it with science fiction elements. While the show is often hilarious and heartwarming, there is a dark undercurrent that makes it all the more gripping. The way that the show's creators have integrated sci-fi technology into the show is impressive, as it is never overbearing or hogging the show's spotlight. The show's creators know how to balance the comedy and the sci-fi in a way that is engaging and entertaining.
Cristin Milioti delivers an outstanding performance as Hazel. The actress brings her quirky humor and relatable charm to the role. Milioti has been praised for her portrayal of strong female leads in the past, and she maintains that persona in Made For Love. Her character is believable, likable, and relatable. She is the perfect anchor for a show that delves into some dark and unsettling material.
Billy Magnussen plays the role of Byron with equal parts charm and menace. Byron is a complex character, one that you can love as much as you can hate. You can understand his motivation, but that doesn't make him any less reprehensible. As much as he loves Hazel, he cannot let go of his control over her. Magnussen's performance is nuanced, and his portrayal of the tech billionaire is spot on.
Ray Romano rounds out the cast as Hazel's father, Herbert. Romano brings his signature comedic timing to the role, but he also delivers heart-wrenching moments with emotional depth. Herbert is a character that is easy to root for. He is a simple man who has found love in the most unlikely of places. Romano's scenes with Patti Harrison as Diane are an absolute joy to watch.
Made For Love is not your typical romantic comedy. Although it has plenty of laughs, there is an underlying darkness that makes it all the more interesting. The show is smartly written and well-acted, and it does an excellent job of tackling contemporary themes. It is a sharp satire of our gadget-obsessed culture while also offering a sobering glimpse into what the future could hold for us if we're not careful.
In summary, Made For Love is a must-watch for anyone looking for a fresh and innovative take on the romantic comedy genre. The show is insightful, thought-provoking, and hits all the right notes. The cast is incredible, and the show's creators do an excellent job of balancing comedy, drama, and sci-fi elements to deliver something truly unique.