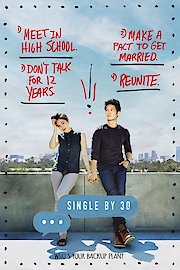 Watch Single by 30
Single by 30 is a romantic comedy-drama series produced by YouTube Red in 2016, directed by Philip Wang and Wesley Chan. The show follows two childhood friends, Peter (Harry Shum Jr.) and Joanna (Kina Grannis) who made a pact to get married at their 30th birthday if they were still single. With their 30th birthday approaching and their own romantic relationships failing, they decide to rekindle their friendship and make good on their promise to each other. The series explores the complexities of modern relationships and the struggle to balance careers and personal lives.
Harry Shum Jr. plays the role of Peter, a successful video game designer who is trying to get over his ex-girlfriend. Peter is a handsome, charming, and well-mannered young man with a passion for his work. Despite his achievements, he feels lonely and unfulfilled without a partner by his side. Kina Grannis plays the role of Joanna, a struggling wedding photographer who is still trying to find her place in the world. Joanna is a free spirit who values her independence but also desires the emotional connection that comes with a long-term relationship.
The chemistry between Peter and Joanna is undeniable, and their shared history makes their interactions all the more meaningful. However, as they start spending more time together, they begin to realize that getting married just to fulfill a promise might not be the best idea. As they navigate their way through their own insecurities and personal issues, they must also consider the impact that a decision to get married would have on their families and friends.
Alongside the main characters, Single by 30 also features a strong supporting cast of family members and friends. Hillary Anne Matthews plays the role of Sasha, Joanna's best friend and a therapist who offers advice and support when needed. Sasha is also dealing with her own relationship problems, which serve as a contrast to the dynamic between Peter and Joanna.
The show tackles a variety of themes that are relevant to modern dating and relationships. It explores the pressure to settle down and conform to societal expectations, the challenge of balancing career aspirations with personal relationships, and the issue of communication breakdowns and misunderstandings. It is a show that is entertaining, engaging, and thought-provoking, without ever taking itself too seriously.
The series is also notable for its focus on Asian-American characters and themes, which is a refreshing change from the typical Hollywood narratives. It shows the cultural intricacies of growing up Asian-American, which is rarely seen in mainstream media. The show's creators have described it as a "love letter to Asian-American culture," and it is clear that this aspect of the series is given careful consideration.
In terms of production values, Single by 30 is impressive. The cinematography is stunning, with each scene beautifully shot and edited. The soundtrack is also suitably diverse and eclectic, featuring a range of genres and artists. The show's commitment to quality production values adds to its overall appeal, making it a series that is both engaging and visually pleasing to watch.
In conclusion, Single by 30 is a well-crafted and engaging romantic comedy-drama series that explores modern dating and relationships in a thoughtful and entertaining way. With its relatable characters, strong scripts, and engaging performances, it is a series that is sure to appeal to a wide range of viewers. With just eight episodes, it is also easily bingeable, making it the perfect choice for a weekend watch.