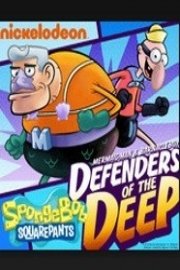 Watch SpongeBob SquarePants, Mermaidman & Barnacleboy: Defenders of the Deep
SpongeBob SquarePants, Mermaidman & Barnacleboy: Defenders of the Deep is an animated television show produced by Nickelodeon Animation Studios for Nickelodeon. The series is a spinoff of the popular cartoon series SpongeBob SquarePants and features SpongeBob and his friends, as they team up with the legendary superhero duo, Mermaidman and Barnacleboy, to protect the ocean from various threats.
The show is set in the underwater city of Bikini Bottom, where SpongeBob works as a fry cook at the Krusty Krab restaurant. The show revolves around the adventures of SpongeBob and his friends, including his best friend Patrick Star, his pet snail Gary, Sandy Cheeks the squirrel, and his boss Mr. Krabs. As they go on various adventures, they often find themselves needing the help of Mermaidman and Barnacleboy, two retired superheroes who live in a nearby nursing home.
Mermaidman and Barnacleboy were once the greatest superheroes of the ocean, but they have since retired and passed on their powers to a new generation. However, when the ocean is threatened, they still answer the call to action and join forces with SpongeBob and his friends to protect the ocean and its inhabitants.
The show is known for its quirky humor and colorful characters. SpongeBob is a cheerful and optimistic character who loves his job and always tries to see the best in people. His best friend Patrick Star is a dim-witted but lovable character who often joins in on SpongeBob's adventures. Sandy Cheeks is a tough and independent squirrel who is always up for a challenge. Mr. Krabs is a greedy businessman who values money above all else.
Mermaidman and Barnacleboy are two of the most iconic characters in the SpongeBob SquarePants universe. Mermaidman is an elderly superhero who wears a blue and green costume with a seashell bra and a starfish on his forehead. He has the power to communicate with marine life and can shoot energy beams from his hands. Barnacleboy is his sidekick, who wears a brown and orange costume and has the ability to shape-shift into any shape or size.
The show features a wide variety of villains and threats, ranging from the diabolical Plankton, who is constantly trying to steal the Krusty Krab's secret recipe for the Krabby Patty, to the evil pirate Captain Hook, who is always causing trouble for the residents of Bikini Bottom. Mermaidman and Barnacleboy often face their own set of challenges, as they struggle to keep up with the latest technology and gadgets.
Overall, SpongeBob SquarePants, Mermaidman & Barnacleboy: Defenders of the Deep is a fun and entertaining show that is beloved by fans of all ages. The show features a wide range of characters, each with their own unique personalities and quirks. The adventures are always exciting and unpredictable, with plenty of humor and action to keep viewers engaged. Whether you're a longtime fan of SpongeBob or a newcomer to the franchise, this is a show that is sure to delight and entertain.