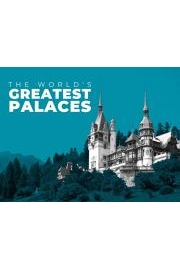 Watch The World's Greatest Palaces
The World's Greatest Palaces, a show presented by True Royalty, takes viewers on a breathtaking tour of some of the most opulent and extravagant palaces around the world. Each episode focuses on a single palace and explores its rich history, magnificent architecture, and stunning interiors.
From the ornate halls of Buckingham Palace in London to the grandeur of the Palace of Versailles in France, the show covers a broad range of significant and visually spectacular properties. The World's Greatest Palaces isn't just about history, however. The show also explores the lives of the people who inhabited these incredible structures, including the monarchs, aristocracy, and other high-ranking officials who once called these places home.
The series offers a rare and intimate look at these extraordinary palaces, and the teams responsible for bringing them to life. Viewers not only get to see some of the most iconic rooms inside these palaces but also learn about the intricate work required to maintain them. The World's Greatest Palaces doesn't shy away from presenting the sheer effort that's demanded to preserving these structures to their former glory.
The show offers an insightful and exciting mix of architectural and decorative styles. It presents a broad range of content from the towering spires of Windsor Castle in England to the ornate detailing of the Royal Palace of Madrid in Spain. Each episode offers a unique opportunity to explore the different styles of architecture and decoration in these residences.
The World's Greatest Palaces isn't just for history buffs or architecture enthusiasts. The show includes something for everyone who wants to learn more about the opulent palaces and the great people who owned and inhabited them throughout history. The visuals alone are enough to keep anyone transfixed, but the show also offers a wealth of fascinating insights into the personalities and lives of the people who once lived in these palaces.
The show also features a series of interviews with historians and palace experts, offering deep insights into the most overlooked aspects of the palaces. They help increase the viewer's understanding of the deeper meaning behind the objects and design elements within each palace. The historians, researchers, and other contributors to the show help to round out the viewer's knowledge and make each episode, and the whole of The World's Greatest Palaces, a truly enlightening experience.
In conclusion, The World's Greatest Palaces represents a fascinating and visually stunning deep dive into some of the most iconic residences from around the world. Viewers can bask in the majesty and opulence of these structures and learn more about the people who lived in them, the designs that made them so special, and the time periods in which they were built. In short, it's a must-watch for anyone interested in the history of architecture or palaces.