Wing Chun
Wing Chun, a forty-episode television series directed by Edmund Fung and Gary Sing, is a martial arts comedy that tells the story of renowned wing chun kung fu master Leung Jan (Yuen Biao) and his trouble-making son Bik (Nicholas Tse). After Jan refuses to train Bik in wing chun because of the young man's instability, Bik vows to master kung fu through other styles. In the midst of this family turmoil, things take a turn for the worse when Bik gets entangled with Goa Ming (Sammy Hung) who works for the Long family, a powerful crime syndicate with ill-will toward Leung Jan. To further complicate matters, Goa Ming falls in love with a girl who is secretly in love with Bik. The kung fu legend Sammo Hung plays an irreverent kung fu master who takes Bik as his pupil.
The producer of Wing Chun, Billy Chan, has admirable kung fu pedigree. As a writer and action choreographer, he has been nominated twice for the Hong Kong Film Award and won the award in 1983. The marquee names in Wing Chun -- Nicholas Tse, Yuen Biao and Sammo Hung -- are legendary kung fu film stars with their own impressive resumes. However, in addition to these kung fu heavyweights, Wing Chun also features newcomer Sammy Hung in his critically praised role as the dark, complex villain, Gao Ming. Critics also took note of Yuen Biao's performance, one of the most revered actors of the genre. Thanks in large part to the strong acting of Yuen Biao and Sammy Hung, Wing Chun has received favorable reviews from fans and critics alike.
1 Season,

40

Episodes

May 11, 2012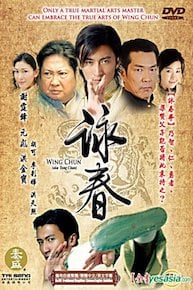 Wing Chun Full Episode Guide
If You Like Wing Chun, Then Try...