The Moon Embracing the Sun
The Moon Embracing the Sun is a Korean television series. The dramatic and romantic show was based on a famous Korean novel by Jung Eun Gwol. It starred several critically acclaimed Korean acting stars, such as Jung Il Woo and Kim Soo Hyun.
Wednesday & Thursday 9:55 PM et/pt on MBC America

1 Season,

20

Episodes

January 4, 2012

/

10

Cast:

Kim Soo-hyun, Yeo Jin-goo, Han Ga-in, Kim Yu-jeong, Jung Il-woo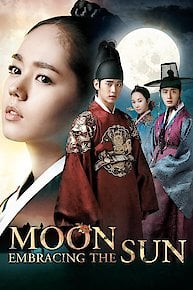 The Moon Embracing the Sun Full Episode Guide
As rumors about the shaman kept in the king's quarters and the return of the crown princess spread throughout the city, conspiracies are disclosed and sacrifices are made as the fight for power comes to a head.

After finally realizing Wol's identity, Hwon rushes to the sick village and reunites with Yeonwoo. But their reunion is cut brief when assassins appear in order to kill Yeonwoo.

Bokyeong falls into a panic, believing Wol to be Yeonwoo having come back from the dead. After leaving the queen, Yeonwoo runs into Hwon in front of Eunwol Building but can't reveal who she is.

With her memory back, Yeonwoo meets with Seol to confirm the truth. But while Seol wants to go public, Yeonwoo decides to keep her identity a secret until she discovers the reason why she had to die.

Wol is kicked out of the palace with the character for sexual obscenity stitched onto her chest. On the way to the sick village, mysterious men intervene and take her away for a secret purpose.

A mysterious, negative energy attacks Hwon and causes him to lose consciousness before consummation. As a result, Bokyeong and Lord Yun decide to use this latest turn to get rid of Wol and diminish Hwon's authority.

Lord Yun begins to suspect that Hwon is up to something. Meanwhile, the date of consummation is pulled up to three days later, much to Bokyeong's delight.

Nokyeong appears before Yangmyeong and Wol to allow Wol to continue on her way. In the king's quarters, Hwon's barrage of questions finally draws tears from Wol.

Hwon finds himself at a loss when with Wol, seeing in her the Yeonwoo he loves. Meanwhile, with his health fast recovering, Royal Queen Dowager Yun orders a new consummation date.

Hwon wakes up to find Wol touching his forehead, and he orders her out of the palace. However, he finds that he can't stop thinking about her.

Kidnapped to be the king's human amulet and absorb the bad spirits that are ailing him, Yeonwoo/Wol finds herself by Hwon's side while he is drugged to sleep deeply.

Before leaving on a small trip, Shaman Nokyeong warns Yeonwoo to stay away from strangers. But when Yeonwoo hears about the king's procession through the village, she persuades Seol to let her get a glimpse.

In the darkest hour, two people dig up Yeonwoo's coffin and let her out, but she doesn't remember who she is. Meanwhile, Bokyeong is crowned the new crown princess in Yeonwoo's place.

While Yeonwoo trains in the ways of the palace, Nokyeong caves in to the queen dowager's command and prepares a dark ritual to cast ill on Yeonwoo.

With the selection of the crown princess fast approaching, Crown Prince Hwon takes it upon himself to make sure that the selection remains fair.

Chief Shaman Nokyeong is called in to read the fortunes of Heo Yeonwoo and Yun Bokyeong, who become the playmates of Princess Minhwa.

Heo Yeom, the young prodigy, is appointed to teach Crown Prince Hwon. Meanwhile, Prince Yangmyeong returns from his travels and immediately goes to see Yeonwoo.

With conspiracies afoot to destroy any threats to the throne and secure the Yun clan's political influence, a young girl is born with a noble yet tragic fate.