Wrestlecade
WrestleCade Weekend is a family friendly 3-day convention for fans of wrestling & sports entertainment which brings together some of your favorite wrestling stars from all eras.
6 Seasons,

9

Episodes

November 25, 2012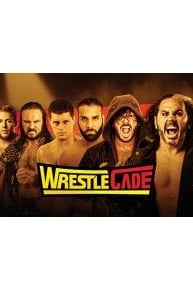 Wrestlecade Full Episode Guide
Episode

2

-

WrestleCade FanFest 2017 Special: Hos...

60min: Kevin Kelly interviews the biggest stars during WrestleCade Weekend 2017! Our host Kevin Kelly (http://twitter.com/realkevinkelly) grabbed these exclusive interviews with some of the biggest names at the Wrestlecade Fan Fest! This event happened over Thanksgiving weekend in Winston-Salem, NC. Hear from stars like Mick Foley, Christian, Jim Cornette, Al Snow, Kevin Sullivan, Shane Helms, M

Episode

1

-

Wrestlecade V (Broken Matt Hardy vs R...

You can now own this spectacular 3 -hour show from WrestleCade V! Just look at this amazing line-up... MATCHES: *Broken Matt Hardy vs. Ryback *Ricochet, Shane Strickland & Matt Cross vs. Sonjay Dutt, Caleb Konley & Juventud Guerrera *Kelly Klein, Taeler Hendrix, Kennadi Brink & Amber Gallows vs. Mandy Leon, Solo Darling, Faye Jackson & Deonna Purrazzo *Tessa Blanchard vs. Rachel Ellering *Gunner.
Episode

2

-

6-Man-Tag: Ricochet, Shane Stickland ...

Huge 6-Man-Tag exclusively at Wrestlecade! Watch Lucha Underground stars Ricochet, Shane Stickland & Matt Cross battle former WCW lucha-star Juventud Guerrera, Impact Wrestling X-Division Champion Sonjay Dutt & ROH star Caleb Konley (substitute for the injured Jason Kincaid)!!!

Episode

1

-

Showcase of Champions 2016 (Cody Rhod...

This is the 2nd ever Showcase of Champions event featuring wrestlers from the top promotions across the country! Cody Rhodes vs. Sonjay Dutt Jason Kincaid vs. Pentagon Jr Evan Snow vs. Gino King Shane Williams vs. Damien Wayne vs. Zane Dawson Drolix vs. Ken Dixon Geordie Bulldogs vs. Ryan Davidson & Abel Andrew Jackson vs. Matt Lancie & Socorro Danny Flamingo vs. CW Anderson vs. J Spade Alex Cham.