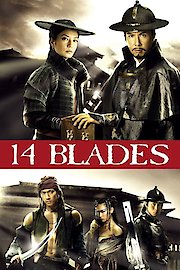 Watch 14 Blades
"Live by your own laws."
R
2014
1 hr 54 min
50
In the opening scene of 14 Blades, we see a group of imperial guards following their leader, Qing Long (Donnie Yen), as they maneuver through a perilous mountain range. From the beginning, we see that Qing Long is a skilled fighter; he moves effortlessly, smoothly carving his way through an ambush that would have overwhelmed lesser men. Though several guards lose their lives during the climb, Qing Long is able to slip past the attackers and complete his mission: delivering a box of unknown contents to the Empress Dowager.
Of course, this is no easy feat. Before Qing Long even makes it to the palace, he is betrayed by his own men, who stage an assassination attempt and frame him for the deaths of several imperial guards. Though Qing Long is able to escape the palace, he is left wondering about the contents of the box he delivered. As it turns out, the box contains special blades; these blades give their wielder extraordinary power, as well as the ability to control the world through the use of secret codes hidden within the blades.
The rest of the movie centers on Qing Long's struggle to uncover the conspiracy that led to his betrayal, as well as his efforts to keep the blades out of the hands of the sinister Jinyiwei organization. Along the way, he is aided by other skilled fighters: a woman named Qiao Hua (Wei Zhao) who also seeks to unravel the conspiracy, and a former Jinyiwei member named Tuo Tuo (Chun Wu) who has his own reasons for wanting to stop the organization.
What follows is a fast-paced, action-packed adventure that will leave viewers on the edge of their seats. The fight scenes are expertly choreographed--not surprising, given that the film was directed by Daniel Lee, who has a reputation for producing visually stunning martial arts films. But while the movie's action sequences are undoubtedly thrilling, it is the characters that drive the story forward.
Donnie Yen's portrayal of Qing Long is excellent; he brings a vulnerability to the character, showing us a man who is both haunted by his past and driven by his desire to do the right thing. Wei Zhao shines as Qiao Hua, a woman who is both cunning and compassionate. Though she is initially presented as playing second fiddle to Qing Long, it becomes clear that she is more than capable of holding her own in a fight. And Chun Wu is charming as Tuo Tuo, bringing a sense of humor to his role that lightens the tone of the film.
Of course, no martial arts movie would be complete without a worthy adversary, and 14 Blades delivers in spades with the Jinyiwei organization. Led by the ruthless Jin Yi (Sammo Hung), this group of assassins will stop at nothing to get their hands on the blades. Their motivations are complex--it becomes clear that they are not simply evil for the sake of being evil--and their methods are shocking.
Ultimately, 14 Blades is a film about loyalty, honor, and the lengths to which people will go to protect the things they hold dear. It is a story about the power of friendship, and about the choices we make in the face of impossible odds. The movie is visually stunning, the action is heart-pumping, and the characters are compelling. Fans of martial arts movies will not be disappointed.
14 Blades is a 2014 drama with a runtime of 1 hour and 54 minutes. It has received mostly poor reviews from critics and viewers, who have given it an IMDb score of 6.3 and a MetaScore of 50.