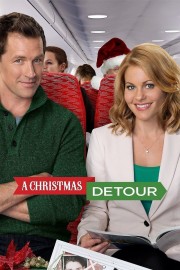 Watch A Christmas Detour
TV-G
2015
1 hr 25 min
In the 2015 romantic comedy movie A Christmas Detour, we follow the story of two strangers, Paige Summerlind (played by Candace Cameron Bure) and Dylan MacKenzie (played by Paul Greene), who have their holiday travel plans derailed due to multiple flight cancellations. After a chance encounter at the airport, they decide to rent a car together and embark on a road trip from Buffalo, New York, to New York City.
Paige is a type-A personality, who is determined to make it to her fiancé's parents' house in time for her wedding, which is just four days away. Dylan, on the other hand, is carefree and spontaneous, who is heading to the city to play in the Christmas charity hockey game. Despite their differences, they set off on the trip together, hoping to get to their destinations on time.
As they travel, they encounter a number of mishaps and obstacles, from getting lost in a blizzard to getting their car stuck in the snow. Along the way, they meet a quirky couple, Frank and Maxine (played by David Lewis and Sarah Strange), who offer to give them a lift. Frank is a free-spirited artist who has an unconventional way of looking at the world, while Maxine is a no-nonsense woman, who speaks her mind. The four of them soon find themselves in a number of hilarious situations and misadventures, from getting locked in a motel room to singing Christmas carols together.
As they spend more time together, Paige and Dylan find themselves getting closer, despite their initial reservations. Paige realizes that her fiancé may not be the right person for her, while Dylan reassesses his own priorities in life. Frank and Maxine also provide some valuable insights and advice along the way, helping Paige and Dylan navigate their own personal journeys.
A Christmas Detour is a heartwarming movie that captures the true spirit of the holiday season. It is a story about the joys of unplanned detours, unexpected friendships, and the power of love to change lives. The movie features strong performances by its lead actors, who bring their characters to life with charm and authenticity. The chemistry between Candace Cameron Bure and Paul Greene is palpable, making their budding romance all the more believable. Sarah Strange and David Lewis also deliver standout performances, providing much of the movie's comic relief.
The movie is beautifully shot, with stunning winter landscapes and festive decorations adding to the overall charm. The soundtrack features a mix of classic Christmas songs and original compositions, giving the movie a warm and cozy feel. The direction by Ron Oliver is crisp and efficient, keeping the pace of the movie brisk and engaging.
Overall, A Christmas Detour is a delightful movie that should definitely be on your list of must-watch holiday rom-coms. It is a movie that will make you smile, laugh and maybe even shed a tear or two. So, sit back, relax, and enjoy the journey with Paige, Dylan, Frank, and Maxine as they detour their way towards their destinations, and ultimately, towards love and happiness.
A Christmas Detour is a 2015 comedy with a runtime of 1 hour and 25 minutes. It has received moderate reviews from critics and viewers, who have given it an IMDb score of 6.1.