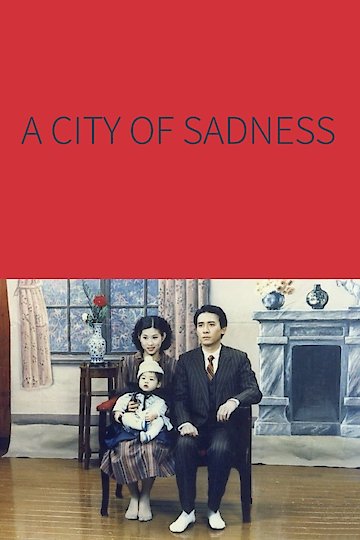 Watch A City of Sadness
1989
2 hr 37 min
A City of Sadness is a 1989 Taiwanese film directed by Hou Hsiao-hsien. The film is set in the years 1945-1949 in Taiwan and primarily focuses on the Lin family, who are ethnic Hoklo (Hakka) Taiwanese, as they navigate the complicated political and social climate of the time. The movie starts with a nostalgic look at the lively, bustling city of Taipei in 1945, just after the end of the Japanese occupation of Taiwan. However, the excitement is short-lived as the country faces rapid changes with the arrival of the Kuomintang government led by General Chiang Kai-shek. The film depicts the transition from Japanese colonial rule to the Chinese Nationalist Party dictatorship and the ensuing social turmoil that took place in Taiwan during those turbulent early years.
The film introduces us to the Lin family, who run a successful rice wine business in Taipei. The eldest brother is Wen-heung (Tony Chiu-Wai Leung), a deaf mute, who is gifted with premonitions. He is often seen dealing with his family's affairs while the middle brother, Wen-ching (Jack Kao), is away fighting for the Nationalist Army. The youngest brother, Wen-leung (Sung-Young Chen), is a naive and impressionable teenager.
As the Nationalists consolidate their power in Taiwan, lawlessness, and political instability become rampant. The Lin family finds themselves caught in the midst of all this chaos when Wen-ching is arrested and imprisoned as a Communist sympathizer. The family's struggles continue as they try to make sense of the new regime's policies and laws, which affect their business and personal lives.
Meanwhile, Wen-leung falls in love with a young Japanese woman (Michiko Hada), who works as a teacher, but he finds himself in a dilemma when he must choose between his family and his love interest. As the film progresses, the story captures the complex relationships between the family members and their experiences in navigating the changing sociopolitical fabric of their time.
The movie is a masterpiece of filmmaking, providing a nuanced perspective on Taiwan's history that is often ignored in popular media. It explores themes such as family, identity, language, and memory in a sensitive and poignant manner. The film's visual style is strikingly beautiful, with long takes and intricate camera work that subtly convey the emotions and interpersonal dynamics of the characters.
Overall, A City of Sadness is a moving and thought-provoking film that offers a unique and insightful perspective on Taiwanese history. It is a must-watch for anyone interested in Taiwan's culture, history, and politics, as well as for those interested in cinema as an art form. With its powerful storytelling and stunning visuals, this film remains a classic of modern cinema.