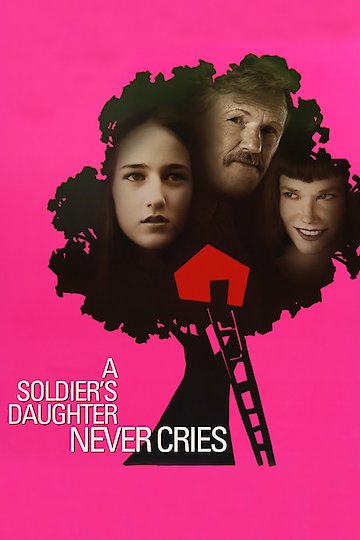 Watch A Soldier's Daughter Never Cries
"The city of lights. A famous American author and the decade that changed a generation...forever."
R
1998
2 hr 7 min
65
A Soldier's Daughter Never Cries is a coming-of-age drama film directed by James Ivory that was released in 1998. Set in the 1960s and 1970s, the film follows the life of Charlotte Anne "Channe" Willis, the daughter of an American writer and his French wife, who are living in Paris. The film explores the theme of cultural differences and the challenges of growing up and finding one's identity. Channe (played by Leelee Sobieski) is faced with the struggles of her father's (Kris Kristofferson) fame and her mother's (Barbara Hershey) infidelity, as well as her own journey of self-discovery and coming of age. The film is divided into two parts, with the first half taking place in Paris, where Channe grows up with her brother Billy (played by Jesse Bradford) in a bohemian household filled with writers, painters, and other artists. As a child, Channe is fascinated by her father's career as a writer and the eccentric personalities of his friends. She is also curious about her French heritage and develops a close relationship with her family's au pair, a young woman from Normandy named Lili (Dominique Blanc). As Channe reaches adolescence, she becomes aware of her parents' troubled relationship and her mother's affair with an American publisher named Francis Fortescue (Anthony Roth Costanzo). She also begins to question her own identity and sexuality, as she navigates her first crushes on boys and girls. The second half of the film takes place in the United States, where Channe and her family move after her father is offered a teaching position at a college in Virginia. The move proves difficult for Channe, who misses her friends and the vibrant cultural scene of Paris. She also struggles to fit in at her new school, where she is teased for her foreign accent and her unconventional upbringing. Throughout the film, Channe finds comfort and support in the relationships she forms with Lili and her father's best friend, the American novelist Farraday (Anthony Roth Costanzo), who becomes a mentor and surrogate father figure to her. Overall, A Soldier's Daughter Never Cries is a poignant and beautifully crafted film that explores themes of family, identity, and the challenges of growing up. The performances by the cast, particularly Leelee Sobieski in the lead role, are excellent, and the film's cinematography and soundtrack are both stunning.