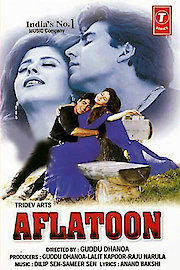 Watch Aflatoon
Aflatoon is a 1997 Indian action-comedy film directed by Guddu Dhanoa and starring Akshay Kumar, Urmila Matondkar, and Anupam Kher. The movie follows the story of the smart and charming Raja (Akshay Kumar), who is known for his street-smart wit and intellect. Raja dreams big and has big plans for his future, which leads him to take on various ventures to make a quick buck.
However, his life takes an unexpected turn when he meets Roma (Urmila Matondkar), who is a social worker and a strong advocate for the poor and the underprivileged. Raja falls in love with Roma but soon realizes that their ideologies and beliefs are vastly different. He believes in making his fortune through dishonesty and fraud, while Roma fights for the rights of the poor and the needy.
Amidst all this, Raja becomes involved in a dangerous game of cat-and-mouse with a corrupt businessman named Karmen Shah (Anupam Kher). Karmen is an evil man who is willing to go to any lengths to achieve his nefarious goals. He has a rough past with Raja, and the two of them share an intense hatred for each other.
As the story progresses, Raja devises a plan to take revenge on Karmen while impressing Roma at the same time. His cunning intellect and quick wit come in handy as he navigates the dangerous world of crime and deceit. He sets out to expose Karmen for his wrongdoings and bring justice to the people he has oppressed.
The movie is known for its high-octane action sequences, catchy songs, and witty one-liners. Akshay Kumar delivers a stellar performance as Raja, showcasing his ability to seamlessly transition from comedy to action. Urmila Matondkar shines in her role as Roma, bringing depth and substance to the character.
Anupam Kher is the perfect antagonist, portraying Karmen Shah in a menacing and chilling manner. The movie also features an ensemble cast that includes the likes of Farida Jalal, Shazia Malik, and Harish Patel.
Overall, Aflatoon is a must-watch movie for fans of action-comedy films. It has all the elements of a classic Bollywood movie, with an engaging storyline, memorable characters, and breathtaking action sequences. The movie has stood the test of time and continues to be a favorite among fans of the genre.
Aflatoon is a 1997 crime movie. It has received mostly poor reviews from critics and viewers, who have given it an IMDb score of 4.5.