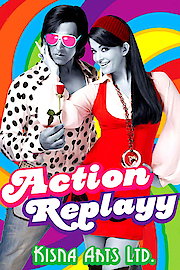 Watch Action Replayy
"Rewind Your Life"
TV-PG
2010
2 hr 4 min
Action Replayy is a Bollywood romantic comedy film released in 2010. The movie stars Akshay Kumar, Aishwarya Rai Bachchan, and Aditya Roy Kapoor in the lead roles. Vipul Amrutlal Shah directed the film, and it was produced by Ritesh Sidhwani and Farhan Akhtar. The movie is based on a time-travel concept, a familiar concept in the science fiction genre. However, in this film, the time-travel is used for comedy and romance. The movie begins in the present day and tells the story of Kishen (Akshay Kumar), a young man who is unhappy with his present-day life. He is tired of his mundane job, and his relationship with his wife, Mala (Aishwarya Rai Bachchan), is on the rocks.
Kishen's father, who is a scientist, invents a time machine, which allows Kishen to travel back in time to the 1970s. Here, Kishen meets his parents, who are young and carefree, and he soon realizes that he has gone back to the time when his parents first fell in love.
Kishen, in the avatar of his dad, tries to create situations that would help bring his parents together, who are currently separated and don't hold any affection towards each other. He meets his father, Kundanlal, who is a nerd and decides to turn him into a stud to impress his mother, Kamal (Aishwarya Rai Bachchan). Over the course of the movie, we see the transformation of Kundanlal (Aditya Roy Kapoor) from an introverted young man to a cool dude.
Throughout the course of the film, Kishen creates various situations to help Kundanlal get Kamal's attention, including staging a dance competition between Kundanlal and Kamal's then-boyfriend Anthony Gonsalves.
As Kishen discovers more about his parents' past, he begins to understand the root of their current problems. He realizes that their love story didn't end up the way it did because of their choice but due to unforeseen circumstances.
In Action Replayy, we witness the romance between Kundanlal and Kamal, which is depicted in a lovely and heartwarming manner. The movie's music and choreography are also commendable and add to the overall experience.
The film features a talented cast that brings the characters to life. Akshay Kumar, as always, does an excellent job in his role. His comic timing and performance are on par with his previous films. Aishwarya Rai Bachchan is fantastic as Kamal, and she is charming and adorable. Aditya Roy Kapoor does an admirable job in his role as Kundanlal, and his character has excellent character development.
Overall, Action Replayy is a light-hearted and entertaining movie that takes you on an emotional rollercoaster ride. The movie combines comedy, romance and a time-travel concept, making it an impressive piece of Bollywood cinema. It is an enjoyable movie that should be watched for its delightful performances, songs, and overall presentation.
Action Replayy is a 2010 comedy with a runtime of 2 hours and 4 minutes. It has received mostly poor reviews from critics and viewers, who have given it an IMDb score of 4.3.