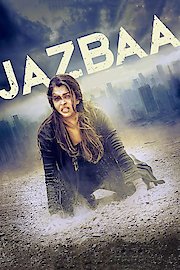 Watch Jazbaa
NR
2015
1 hr 58 min
Jazbaa is a 2015 Indian crime thriller film directed by Sanjay Gupta and starring Aishwarya Rai Bachchan, Irrfan Khan, and Shabana Azmi. The film follows the story of Anuradha Verma, a successful criminal defense attorney, whose daughter is kidnapped. Anuradha is forced to defend a convicted felon in exchange for her daughter's freedom. The convict, played by Chandan Roy Sanyal, is accused of rape and murder and Anuradha must navigate the corruption and political drama of the Indian justice system to prove his innocence.
The film begins with Anuradha Verma (Aishwarya Rai Bachchan), a successful criminal defense lawyer, juggling work, motherhood, and a contentious divorce. Her daughter, Sanaya, is kidnapped and Anuradha receives a call from the kidnapper demanding that Anuradha defend a man named Niyaz Ahmed (Chandan Roy Sanyal), who is on death row for raping and murdering a young woman. The kidnapper threatens to kill Sanaya if Anuradha does not successfully exonerate Niyaz.
Anuradha enlists the help of her friend and former co-worker, Yohan (Irrfan Khan), a suspended policeman who now works as a private investigator. Yohan helps Anuradha investigate the case and they find out that there is more to Niyaz's story than meets the eye. Despite facing obstacles such as political pressures and bribery attempts, Anuradha and Yohan continue to search for the truth.
At the same time, Anuradha's ex-husband, Tej (Chandan Roy Sanyal), uses his political connections to try to manipulate the case and protect his own interests. Anuradha's mentor, Garima (Shabana Azmi), a retired judge who is now wheelchair-bound, also helps Anuradha and Yohan in their quest for justice.
The film features a number of suspenseful and action-packed scenes, including car chases, shootouts, and one particularly intense sequence in which Anuradha chases a suspect through a crowded market. There are also moments of emotional drama as Anuradha struggles to balance her professional duty with her love for her daughter.
Aishwarya Rai Bachchan delivers a solid performance as Anuradha Verma, portraying the character's strength, vulnerability, and determination. Irrfan Khan provides much-needed comic relief as the quirky and endearing Yohan, while Shabana Azmi adds gravitas in her role as Garima. Chandan Roy Sanyal is also commendable in his portrayal of Niyaz, a character who is at once menacing and sympathetic.
The film's soundtrack, composed by Amjad-Nadeem, features several catchy and melodious songs, including the romantic ballad "Bandeyaa" and the upbeat "Aaj Raat Ka Scene."
Overall, Jazbaa is a thrilling and entertaining film that will keep viewers on the edge of their seats. The film addresses important social and political issues, including corruption and gender-based violence, while also presenting a compelling and engaging story.
Jazbaa is a 2015 thriller with a runtime of 1 hour and 58 minutes. It has received moderate reviews from critics and viewers, who have given it an IMDb score of 5.7.