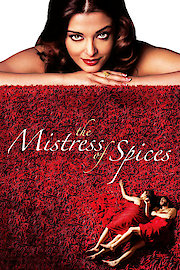 Watch The Mistress of Spices
"One spice for passion. And one woman who knows its name."
PG-13
2005
1 hr 36 min
The Mistress of Spices is a 2005 romantic drama film directed by Paul Mayeda Berges and starring Aishwarya Rai Bachchan, Dylan McDermott, and Nitin Ganatra. The movie is based on the novel of the same name by Chitra Banerjee Divakaruni. The storyline of the movie revolves around Tilo (Aishwarya Rai Bachchan), a young woman who is born with a magical talent for using spices. She becomes an immortal Mistress of Spices and is sent to Oakland, California to help the local South Asian community. In her role as a Mistress of Spices, she uses her knowledge of spices to help people overcome their problems and fulfill their desires. Tilo runs a spice shop in Oakland and has a strict rule to never leave her shop, as her magic will be lost if she leaves. She is forbidden to have any physical contact with the people she helps, or to use her magic for her own personal benefit. However, she finds herself drawn to a handsome American man named Doug (Dylan McDermott), who begins to visit her shop frequently. Despite her rule against getting involved with customers, Tilo finds herself growing more and more attracted to Doug. As Tilo helps the people who come into her shop, she begins to realize that her magic is diminishing, and she fears that she may be losing her power. She faces a difficult decision when she realizes that she must break her own rules to save a young woman who is in love with the wrong man. Along the way, Tilo learns about the importance of love and sacrifice. The movie is set against the backdrop of the vibrant South Asian community in Oakland, offering a glimpse into the lives of the residents and the challenges they face. The film is beautifully shot, with colorful scenes of the spice shop and the streets of Oakland. Aishwarya Rai Bachchan shines in her portrayal of Tilo, capturing the character's strength, vulnerability, and inner turmoil. Dylan McDermott also puts in a great performance as the charming and handsome Doug, who is attracted to Tilo's mysterious allure. Nitin Ganatra also delivers a strong performance as Haroun, one of Tilo's customers who is struggling with a failing business and a difficult marriage. Overall, The Mistress of Spices is a captivating film that explores themes of love, sacrifice and the power of magic. It is a unique and visually stunning movie that will appeal to those who enjoy romance and stories with a touch of magic.