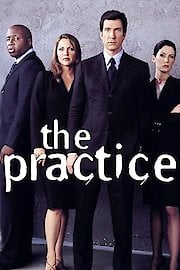 Watch The Practice
TV-14
1997
8 Seasons
The Practice is a legal drama television series that chronicles the activities of the partners, associates, and staff members of the Boston law firm Robert Donnell and Associates. The show premiered on Fox in 1997 and ran until 2004. Throughout its run, the Practice received wide critical acclaim for its realistic portrayal of the legal world, compelling storylines, and strong performances from its talented cast.
Steve Harris stars as Eugene Young, a confident and no-nonsense partner at the firm. Camryn Manheim plays Ellenor Frutt, a passionate and dedicated attorney who often puts her clients' interests before her own. Michael Badalucco portrays Jimmy Berluti, a likable but unorthodox lawyer with a tendency to take on the underdogs. Dylan McDermott stars as Bobby Donnell, the firm's charismatic founder, and leader, who frequently finds himself torn between his professional obligations and his personal loyalties.
Lisa Gay Hamilton plays Rebecca Washington, a talented and ambitious lawyer who joins the team in the later seasons of the show. Marla Sokoloff portrays Lucy Hatcher, a young and idealistic attorney who becomes Bobby's assistant. Kelli Williams is cast as Lindsay Dole, a tough but compassionate lawyer who often takes on difficult child custody cases. Lara Flynn Boyle plays Helen Gamble, a successful attorney who struggles to balance her personal and professional lives.
Bill Smitrovich stars as D.A. David McClaren, Bobby's arch-nemesis, who frequently clashes with the Donnell and Associates team in the courtroom. Chyler Leigh plays Claire Wyatt, a law student who joins the law firm as a clerk and works her way up the ranks to become an attorney. James Spader portrays Alan Shore, an eccentric and brilliant lawyer who later becomes a partner at the firm.
Jason Kravits plays Richard Bay, the firm's comptroller, who is known for his quirky personality and love for magic tricks. Jessica Capshaw is cast as Jamie Stringer, a young and ambitious lawyer who becomes the object of Bobby's affections. Rhona Mitra plays Tara Wilson, a seductive artist whom Bobby defends in a high-profile case. Ron Livingston portrays Alan Lowe, an attorney who temporarily replaces Bobby as head of the firm.
Holland Taylor plays Judge Roberta Kittleson, a tough but fair judge who often hears cases involving the Donnell and Associates team. John Larroquette plays Joey Heric, a wealthy businessman who frequently hires the firm for his legal needs.
The Practice covers a wide range of legal cases and issues, including murder trials, corporate fraud, civil lawsuits, and family law disputes. Through its complex storytelling and nuanced character development, the show explores the moral and ethical dilemmas faced by lawyers, judges, and clients alike.
The Practice was praised for its realistic depiction of the legal system, as well as its sensitive and honest portrayal of controversial social issues such as abortion, racism, and LGBTQ+ rights. The show also tackled timely topics such as domestic terrorism, police brutality, and the death penalty.
In addition to its compelling storylines, The Practice was known for its strong performances and memorable characters. The show's ensemble cast received critical acclaim for their performances, with many of them earning Emmy nominations and awards for their work on the show.
Overall, The Practice was a groundbreaking legal drama that set the standard for subsequent series in the genre. Despite ending its run over 15 years ago, the show remains a fan favorite and a critical darling, a testament to its enduring legacy and influence on the television landscape.
The Practice is a series that is currently running and has 8 seasons (205 episodes). The series first aired on March 4, 1997.