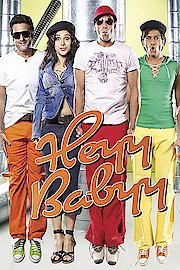 Watch Heyy Babyy
Heyy Babyy is a 2007 Indian comedy-drama film directed by Sajid Khan and starring Akshay Kumar, Fardeen Khan, Riteish Deshmukh, Vidya Balan, and Boman Irani. The film revolves around three bachelors who enjoy life to the fullest, until a baby girl enters their lives and changes everything. The story begins with three friends Aroush (Kumar), Tanmay (Deshmukh), and Al (Khan) who are living in Australia and are known for their hedonistic lifestyle. They have no responsibilities and enjoy life to the fullest. One day, they come across a baby girl named Angel who is left on their doorstep with a note saying that one of them is her father. The three men are in a dilemma and try to figure out who the father is.
As they struggle with the new responsibility, they come across a woman named Isha (Balan) who is the owner of a boutique. Aroush starts to develop feelings for her, but she is unaware of the situation with the baby. Meanwhile, Al has to deal with his girlfriend demanding marriage, and Tanmay is dealing with his overbearing mother.
The film takes a dramatic turn when the real mother of the baby, Esha (played by Vidya Balan) enters the picture. The three men realize that she is the mother and decide to give the baby back to her. However, Esha is dealing with her own problems and the men decide to help her resolve them.
The film is a perfect blend of comedy, drama, and emotions. The performances of the lead actors, especially Akshay Kumar and Riteish Deshmukh, are commendable. Vidya Balan also delivers a brilliant performance in her small but impactful role. The chemistry between the actors is good and the dialogues are witty and entertaining.
The music of the film, composed by Shankar-Ehsaan-Loy, is catchy and upbeat. The songs "Heyy Babyy" and "Mast Kalandar" were extremely popular at the time of the film's release and are still loved by fans today.
Overall, Heyy Babyy is a fun-filled entertainer that leaves the audience laughing and emotional at the same time. It shows the complexities of relationships and the importance of taking responsibility. The film was a commercial success and still enjoys a cult following among fans.
Heyy Babyy is a 2007 comedy. It has received moderate reviews from critics and viewers, who have given it an IMDb score of 6.0.