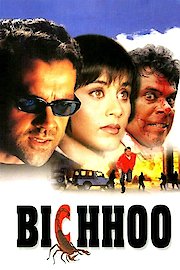 Watch Bichhoo
NR
2000
2 hr 40 min
Bichhoo is a 2000 Hindi action thriller film directed by Guddu Dhanoa and produced by Keshu Ramsay. The film stars Bobby Deol, Rani Mukerji, and Ashish Vidyarthi in lead roles, while Malaika Arora, Mohan Joshi, and Farida Jalal feature in supporting roles. The plot of the film revolves around a young man named Jeeva (Bobby Deol), who is the son of a wealthy businessman. Jeeva witnesses the murder of his father by a man named Tejeshwar Singh (Ashish Vidyarthi) and his accomplices. Tejeshwar is a dangerous criminal who is wanted by the police for his involvement in several crimes.
Determined to avenge his father's death, Jeeva decides to take matters into his own hands and sets out on a mission to bring Tejeshwar to justice. With the help of a street smart girl named Kiran (Rani Mukerji), Jeeva sets out to find Tejeshwar and his gang and take them down.
As Jeeva and Kiran get closer to their target, they must also face several challenges and obstacles along the way. They encounter corrupt police officers, dangerous thugs, and even a psychotic killer who is intent on killing them both.
With adrenaline pumping action sequences, intense drama, and a thrilling story, Bichhoo is a must-watch film for fans of the action thriller genre. The film also features some great music, including the hit songs "Jeevan Mein Jaane Jaana" and "Tere Honton Ki Hansi".
Bobby Deol delivers a powerful performance as Jeeva, portraying the character's determination and bravery with conviction. Rani Mukerji is equally impressive as Kiran, bringing a certain charm and wit to her role.
Ashish Vidyarthi is perfect as the ruthless villain Tejeshwar Singh, exuding menace and danger in every scene he appears in. The supporting cast also does a great job, with Malaika Arora delivering a memorable performance in her item number "Ekwari Tak Le".
Overall, Bichhoo is an entertaining and engaging film that keeps you on the edge of your seat from start to finish. It's a great example of the action thriller genre done right, with strong performances, exciting action sequences, and a thrilling story that will keep you hooked until the very end.
Bichhoo is a 2000 action movie with a runtime of 2 hours and 40 minutes. It has received mostly poor reviews from critics and viewers, who have given it an IMDb score of 5.0.