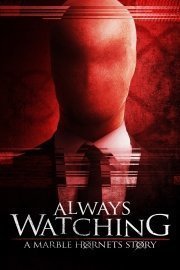 Watch Always Watching: A Marble Hornets Story
R
2008
1 hr 32 min
Always Watching: A Marble Hornets Story is a chilling horror-thriller movie from 2015 that is sure to leave you on the edge of your seat. The movie features Alexandra Breckenridge, Christopher Rodriguez Marquette, and Jake McDorman as three employees of a news station who stumble upon a series of mysterious tapes that were left at the scene of a tragic accident. As they begin to investigate the tapes, they find themselves being drawn into a world of darkness and fear, where nothing is quite as it seems.
The tapes are part of a larger video project called Marble Hornets, which promises to reveal the truth about a shadowy figure known only as The Operator. As the employees dig deeper into the project, they discover that The Operator is not an ordinary human being, but a supernatural force that has the power to manipulate reality itself.
As they try to unravel the mystery of Marble Hornets, the employees must confront their own darkest fears and confront the evil that seems to be following them at every turn. Along the way, they encounter a host of characters, including a mysterious blogger who seems to know more about the project than anyone else, and a creepy stalker who seems to be watching their every move.
The acting in Always Watching: A Marble Hornets Story is top-notch, with Breckenridge, Marquette, and McDorman delivering performances that are both believable and engaging. The movie also features some impressive special effects, including some truly creepy scenes that are sure to haunt your dreams.
Overall, Always Watching: A Marble Hornets Story is a must-see for anyone who loves a good horror movie. The movie is skillfully directed and expertly crafted, with a story that will keep you guessing until the very end. Whether you're a fan of the found-footage genre or just a lover of terrifying horror movies, Always Watching: A Marble Hornets Story is an experience that you won't soon forget.
Always Watching: A Marble Hornets Story is a 2008 horror movie with a runtime of 1 hour and 32 minutes. It has received mostly poor reviews from critics and viewers, who have given it an IMDb score of 4.8.