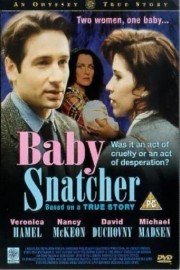 Watch Baby Snatcher
NR
1992
1 hr 33 min
Baby Snatcher is a 1992 made-for-TV movie that tells a story of a mother's love for her child and the extent she will go to protect her. The movie follows the life of a successful career-driven lawyer, Marlene (Veronica Hamel), who is forced to leave her newborn daughter in the care of a nanny due to her busy schedule. One day Marlene returns home to find that her daughter is missing, and the nanny, Edna (Nancy McKeon), is nowhere to be found. After contacting the authorities, Marlene soon discovers that her daughter is part of a black-market baby ring. With the help of a private investigator, Mark (Michael Madsen), Marlene embarks on a mission to find her child and bring the perpetrators to justice.
As the story unfolds, Marlene learns that there are many people involved in the baby-snatching scheme, including doctors, lawyers, and the police. She realizes that her fight to get her baby back will be an uphill battle. However, she is willing to take on anyone who stands in her way, even if it means risking her life.
As Marlene continues her search, she discovers that Edna, the nanny, is not only part of the baby-snatching scheme, but she is also a victim. Edna has been coerced into the scheme and is being controlled by a man who threatens to harm her children if she doesn't do what he asks. Marlene takes Edna under her wing and tries to help her escape the grasp of the man who is pulling the strings.
As the movie reaches its climax, Marlene finds herself in a dangerous situation when she is confronted by the powerful man behind the baby ring. The man threatens Marlene's life and her daughter's safety if she doesn't back down. Marlene, however, refuses to give up and uses her legal skills to bring the man to justice.
Baby Snatcher is a well-crafted movie that highlights the importance of a mother's love for her child. The movie shines a light on the dark reality of the black-market baby trade and how it affects the lives of innocent victims. The performances of the lead cast members are exceptional, with Veronica Hamel delivering a powerful performance as the determined mother who will stop at nothing to get her baby back.
In conclusion, Baby Snatcher is a captivating movie that will keep you on the edge of your seat from start to finish. The film's suspenseful storyline and strong performances make it a must-watch for anyone looking for a thrilling and heartwarming movie.
Baby Snatcher is a 1992 drama with a runtime of 1 hour and 33 minutes. It has received moderate reviews from critics and viewers, who have given it an IMDb score of 5.8.