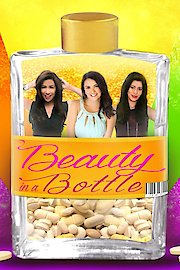 Watch Beauty in a Bottle
2014
1 hr 40 min
Beauty in a Bottle is an uplifting Filipino comedy-drama film that depicts the lives of three independent women who are all searching for meaning and happiness in their respective lives. The film, released in 2014, directed by Antoinette Jadaone, and stars Angelica Panganiban, Angeline Quinto, and Assunta de Rossi in the lead roles.
The movie follows the intertwined lives of three women: Estelle (De Rossi), a successful career woman who has trouble finding a man who will accept her independent spirit; Jess (Panganiban), a widowed mother who works as a store clerk to provide for her son; and Cai (Quinto), a talented singer who is desperate to become a beauty queen. Though they come from different walks of life, the three women share a common desire to be happy and fulfilled.
Estelle's happy, successful exterior masks a deep-seated loneliness. Despite her achievements, she can't help but feel that her life is incomplete without romance. Jess, still grieving over her husband's death, finds purpose in her son while struggling to make ends meet. Conversely, Cai's life is filled with glitz and glamour, but she's never truly happy as she longs to be recognized for her inner beauty instead of her physical appearance.
Their lives become intertwined when they all decide to purchase a beauty product dubbed the ultimate solution to all their problems. The product, named "Beauty in a Bottle," is a miraculous weight loss supplement, which promises all three women the chance to achieve their ultimate beauty goals.
However, things do not go as planned as the three women begin to experience unexpected side effects from the product, and they quickly realize that true beauty lies beyond a physical appearance.
As the film progresses, the trio learns to love and accept themselves for who they are, flaws and all. They discover that happiness is not found in the pursuit of superficial beauty but rather in accepting themselves and those around them.
What makes Beauty in a Bottle a compelling movie is how it approaches themes such as body image and self-acceptance. The movie does not present the three main leads as perfect, unattainable beings, but rather as ordinary women dealing with everyday struggles. The film highlights how societal pressures can push people into unrealistic beauty standards, which can leave individuals feeling inadequate and judged by their appearance.
Despite tackling weighty topics, Beauty in a Bottle remains a lighthearted comedy-drama film. The humor is relatable, and the story is perceptive in how it handles the lives of the trio. The film's heartwarming moments balance perfectly with the comedic elements, creating an enjoyable and affecting narrative.
The film also features brilliant performances from its three leads. De Rossi, Panganiban, and Quinto all deliver dynamic performances that come across as authentic and relatable. As the lead characters navigate through their respective story arcs, the actresses bring in their respective personalities needed to make their portrayals effective.
Moreover, the supporting cast also does an excellent job in elevating the story. Actors such as Tom Rodriguez, Empoy Marquez, Dimples Romana, and Carmi Martin all give their characters the needed depth to enhance their respective roles.
To sum up, Beauty in a Bottle is a well-crafted comedy-drama film that offers a poignant take on self-acceptance and body image. It offers an interesting and relatable narrative that is both hilarious and heartwarming without being preachy or cliched. With excellent performances by the cast and a well-paced story, it's no wonder why the movie was a commercial success in the Philippines.
Beauty in a Bottle is a 2014 comedy with a runtime of 1 hour and 40 minutes. It has received moderate reviews from critics and viewers, who have given it an IMDb score of 6.2.