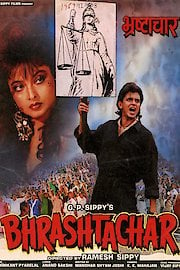 Watch Bhrashtachar
"Corruption"
2008
2 hr 21 min
Bhrashtachar is a 1989 Indian film directed by Ramesh Sippy and featuring an ensemble cast which includes Rekha, Mithun Chakraborty, and Anupam Kher. The movie is an action flick that tells the story of corruption running rampant in post-Independence India, and it explores the various ways in which it affects the common people. The story is set in a small town in India, where the corrupt politics and bureaucracy have made life miserable for the citizens. The film opens with the sudden death of a senior government official, followed by the appointment of the corrupt ACP Rane (Anupam Kher) as his replacement. The new officer is more interested in filling his own pockets than serving the public, and he is aided in his endeavors by a group of corrupt politicians and businessmen.
In this bleak scenario, the film's protagonist, Bhavani (Rekha), emerges as a beacon of hope for the common people. She is a widow who runs a small tea stall at the local railway station, and she has strongly held beliefs about honesty and integrity. One day, she witnesses the murder of a journalist who was about to expose the corrupt nexus, and she decides to take up his mantle and fight against the establishment.
Bhavani's crusade brings her in contact with a young man named Vijay (Mithun Chakraborty), who is also an idealist and wants to make a difference. Vijay is a graduate looking for a job, but he is repeatedly thwarted by the corrupt officials who ask for bribes in exchange for employment. He too decides to take up the fight against corruption and joins hands with Bhavani.
As the duo work towards uncovering the corruption, they face numerous obstacles in the form of the corrupt officials who are determined to silence them. In the climax, they confront ACP Rane and his accomplices, leading to a dramatic showdown.
Bhrashtachar is a movie that deals with a serious issue, and it does so with a certain degree of sincerity. Unlike many other Bollywood films that deal with corruption, it doesn't rely on caricatures or broad humor to make its point. Instead, the film presents a nuanced view of the problem and its impact on the lives of ordinary people.
The film makes several points that are relevant even today. It highlights how corruption pervades all levels of society and how it undermines democracy. The film also shows how the poor and the marginalized are most affected by corruption, as they are the ones who can least afford to pay bribes.
Another aspect of the film that stands out is the performance of the lead actors. Rekha is excellent in the role of Bhavani, bringing a sense of dignity and conviction to her character. Mithun Chakraborty is also impressive as the young man who is determined to make a difference. Anupam Kher is suitably menacing as the corrupt cop, and the rest of the cast does a competent job.
The film's music, composed by Laxmikant-Pyarelal, is another standout feature. The songs are catchy and memorable, and they help to create a sense of mood and atmosphere.
In conclusion, Bhrashtachar is a movie that is worth watching, especially for those who are interested in Indian cinema or political issues. It may be a bit dated in terms of its treatment of the subject matter, but it remains a powerful commentary on the problem of corruption and its impact on society.
Bhrashtachar is a 2008 action movie with a runtime of 2 hours and 21 minutes. It has received mostly poor reviews from critics and viewers, who have given it an IMDb score of 4.9.