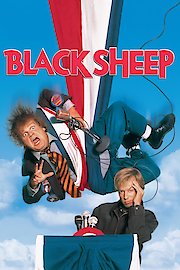 Watch Black Sheep
"There's one in every family."
PG-13
1996
1 hr 27 min
34
Black Sheep is a 1996 comedy film directed by Penelope Spheeris and starring Chris Farley, David Spade, and Tim Matheson. The film follows Farley's character, Mike Donnelly, a well-meaning but hapless younger brother of a gubernatorial candidate named Al Donnelly, played by Matheson. Despite his best efforts to help his brother's campaign, Mike is constantly causing chaos and embarrassing incidents, much to the chagrin of Al and his staff, including campaign strategist Steve Dodds, played by Spade.
The movie begins with Al Donnelly announcing his candidacy for governor of Washington state, and Mike is brought in to help with the campaign. However, Mike is not taken seriously by the other members of the campaign, who see him as an obstacle instead of an asset. In one of the movie's most memorable scenes, Mike accidentally sets fire to Al's campaign headquarters, leading to a frantic rush to get everything back on track.
Throughout the film, Mike and Steve butt heads as they try to keep Al's campaign afloat. Despite their differences, the two eventually come to rely on each other as they navigate through increasingly absurd situations, including a runaway RV and a sheep with a bomb strapped to it.
One of the film's major themes is the idea of political corruption, as Al's opponent, incumbent governor Tracy, played by Christine Ebersole, employs dirty tactics to try to win the election. However, the movie is primarily a vehicle for the comedic stylings of Farley and Spade, who had previously worked together on Saturday Night Live and the movie Tommy Boy. Black Sheep features many of the same types of jokes and physical humor that fans of those projects would expect, with Farley's over-the-top antics and Spade's dry sarcasm playing off each other to great effect.
Despite mixed reviews from critics upon its release, Black Sheep has gone on to become a cult classic among fans of 90s comedies. It also marks one of the final film roles for Farley, who tragically passed away the following year at the age of 33. While not the most sophisticated comedy by any means, Black Sheep is a fun and lighthearted comedy that serves as a reminder of Farley and Spade's comedic chemistry at its peak.
Black Sheep is a 1996 comedy with a runtime of 1 hour and 27 minutes. It has received mostly poor reviews from critics and viewers, who have given it an IMDb score of 6.2 and a MetaScore of 34.