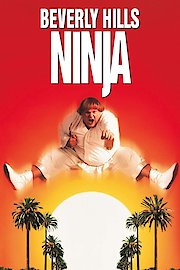 Watch Beverly Hills Ninja
"He puts the Mortal back in Kombat."
PG-13
1997
1 hr 28 min
27
Action with a touch of comedy, good morals to be learned and a compelling story. These are the words that best describe this amazing movie. A fast paced adventure full of problems and innovating ways to solve them. Haru, a young man raised by ninjas, is the hero of the story. Having learned the ninja art, which he constantly shadows with his clumsiness, he self-proclaims himself a ninja and accepts a dangerous mission only to discover there is more mysteries in the already mysterious Sally. The movie does a great job in the first scene by giving us something to look forward to just to be surprised afterwards. As the movie develops we learn to not believe everything that is told to us, even if is someone's name. We follow the misadventures of Haru as he struggles to be the ninja he has always looked up to just to discover his successes are all thanks to his older brother Gobei. Haru believing he is the destined one to be the greatest master of the ninja arts teaches us that there is more than skill in doing things, you also have to apply your heart. As surprising as the story might be, the most surprising thing is that the young hero is somewhat smarter than expected; his main and only real problem is of being clumsy. Gobei told their sensei at the very beginning of the story that Haru was an insult to all ninjas. This is proven wrong in a few scenarios throughout the movie. The movie teaches us to be persistent on our goals and to never give up no matter how hard a situation might be. We also learn a very important lesson which is to never judge a book by its cover but rather by its content even if you have to read past the first few pages. Overall the movie is very funny only having so many serious moments throughout the story. Haru's constant clumsiness provides constant comic relief and manages to make people laugh through the entire movie. The story itself is very compelling and will absorb the viewer to never before seen levels. This movie is great for the entire family as it hides small adult jokes mixed in with the children's ones. It has great morals to be learned for both the kids and the grownups. If you want to watch a funny martial arts movie definitely give this one a shot as it will have you laughing your socks off.