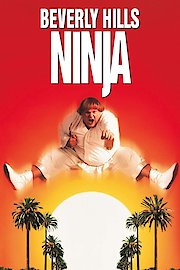 Watch Beverly Hills Ninja
"He puts the Mortal back in Kombat."
PG-13
1997
1 hr 28 min
27
In the 1997 comedy film Beverly Hills Ninja, we follow the journey of Haru (played by Chris Farley), a young man who was rescued by a ninja master when he was just an infant. The master raises him and trains him in the art of the ninja, hoping to make him one of the greatest ninjas in the world. However, Haru is not the most skilled ninja, and his training has been limited due to his larger size. When the master decides that it is time for Haru to leave the monastery and find his true path, Haru decides to go to Beverly Hills, where he believes he will find his destiny. Upon his arrival, he is mistaken for a wealthy businessman as his resemblance with the latter is striking. Haru quickly becomes enmeshed in the daily life of Beverly Hills, where he struggles to adapt to a culture so different from his own. As Haru tries to find his true purpose in Beverly Hills, he is approached by a beautiful woman named Allison (played by Nicollette Sheridan), who hires him to be her bodyguard. Against all odds, Haru impresses Allison and earns her trust. However, when Allison is kidnapped by a group of criminals, Haru takes on the dangerous mission to rescue her, facing dangerous obstacles and challenging his skills as a ninja. The film is filled with hilarious moments, most of them stemming from Haru's lack of understanding of American culture and his clumsy but well-intentioned attempts to integrate himself into it. Robin Shou, who plays Haru's fellow ninja and friend, provides a great contrast to Haru's character as he is skilled, composed, and more used to American culture. Overall, Beverly Hills Ninja is a delightful comedy film that showcases Chris Farley's talent for physical comedy and his ability to bring characters to life with his charismatic performances. The film has its goofy moments, but it also balances the humor with heartfelt moments and great action sequences. Fans of Farley and classic 90s comedies will undoubtedly enjoy this movie.