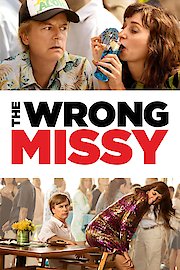 Watch The Wrong Missy
"There's no untexting her now."
TV-MA
2020
1 hr 30 min
33
The movie The Wrong Missy is a 2020 American comedy film directed by Tyler Spindel and written by Chris Pappas and Kevin Barnett. It stars David Spade, Lauren Lapkus and Nick Swardson in lead roles. The film was released on Netflix on May 13, 2020. The story follows Tim Morris (David Spade), who goes on a blind date with a lively and adventurous woman named Melissa "Missy" (Lauren Lapkus). Though they both have a good time together, Tim doesn't feel any romantic spark with her and decides not to see her again. Later, Tim runs into an equally beautiful woman named Melissa (also played by Lapkus) while boarding a plane and believes it's the same Melissa he met on his blind date. However, he soon realizes that he has actually mistakenly texted the wrong "Missy" and has invited the wrong woman on his work retreat to Hawaii. As Tim struggles to navigate his feelings towards the unpredictable and uninhibited Missy on the Hawaiian island, he also has to deal with the presence of his ex-fiancée, Julia (Sarah Chalke), who also happens to be on the trip. Adding to his troubles is his boss from work, Jack Winstone (Geoff Pierson), who is there to host a corporate retreat. Throughout the movie, Tim tries to avoid the unwanted attention of the wrong Missy, while also trying to win back his ex-fiancee, Julia. However, he eventually finds that Missy's spontaneous and wild nature brings out a side of him that he never even knew existed. He starts to enjoy her company, and as they team up to win a team-building challenge, they start to bond and develop feelings for each other. The Wrong Missy is a hilarious, wild ride of a movie with plenty of laughs, zany situations, and absurdity. David Spade delivers his usual brand of humor while Lauren Lapkus truly stands out as the eccentric and unpredictable Missy. The film is also filled with a host of colorful supporting characters, including Nick Swardson as Tim's best friend, Nate, and Jackie Sandler as Jess, Nate's girlfriend. Overall, The Wrong Missy is a classic rom-com with a twist. Mostly set in the beautiful tropical location of Hawaii, it offers a fun escape from reality and a reminder that life is best lived when you let go of all inhibitions and just live in the moment. The movie undoubtedly has its flaws, with moments that feel a little forced or over the top, but it still manages to draw audiences in and leave them laughing for the duration of the film.