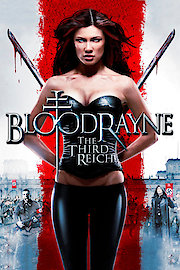 Watch BloodRayne: The Third Reich
"Only the dead survive."
R
2010
1 hr 16 min
It's World War II. Nazi Germany is in control of much of Europe. Still, brave men and women throughout the continent resist their evil rule. Including the half-human, half-vampire Rayne. But an insane Nazi scientist has his sites set on Rayne. He plans to take her blood and inject it into Adolf Hitler, making him immortal. Can Rayne stop Dr. Mangler and keep one of history's most infamous leaders from becoming the all-powerful ruler of the world?