Watch RoboCop 3
"He's back to lay down the law."
In Robocop 3 the hero fights his creators, Omni Consumer Products. The evil corporation wants to demolish the city of Detroit and build Delta City. OCP puts together an army of mercenaries that attack and harass residents of Detroit to get them to abandon their homes. A special squad led by Commander Paul McDaggett and his team proceeds to tear down the city. A group of citizens form to combat OCP they invade the police department warehouse. Murphy gets a call to chases this group but learns that other officers were attacked by a group of Cyber Punks. So he ignored the orders from OCP.
This leads to the murder of his fellow officer Anne Lewis and a serious attempt on this life. OCP tries to have RoboCop's past memories erased. Robocop must find a way to battle a Japanese company that has created a ninja Otomo that looks human. The ninja is designed to battle Robocop.
Robocop finds that the army of arrested criminals make a great team to defeat the OCP special squad.
|
1992
|
1 hr 44 min
|

/

10
Cast

Studio

Director

Fred Dekker

Language

English
RoboCop 3 News
Director Jose Padilha Calls 'RoboCop' Remake A Disastrous 'Hell'
August 28, 2012 @ 11:46 am PST
|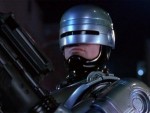 Riddle me this, kids: What do you call it when the "RoboCop" remake's director calls a production that hasn't officially begun yet "Hell," the actor rumored to play the villain drops off the cast, and an alleged leaked script makes "The League of Extraordinary Gentlemen" look like "Citizen Kane?" A sign.
Read More


Watch RoboCop 3 Trailer

ROBOCOP 3 - Awfully Good Movies (1993) Nancy Allen, Robert John Burke sci-fi action film
|
11:29
Watch RoboCop 3 Online - Watch online anytime anywhere: Stream, Buy, Rent
RoboCop 3 is currently available to watch and stream, buy, rent on demand at Amazon, Vudu, Google Play, FandangoNow, iTunes, YouTube VOD online.