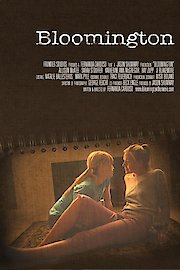 Watch Bloomington
NR
2010
1 hr 23 min
Bloomington is a 2010 drama film straight from the United States that features a star-studded cast led by Allison McAtee, Sarah Stouffer, and Katherine Ann McGregor. The movie tells the story of a former child actress, Jackie (played by Sarah Stouffer), who moves to Bloomington, Indiana, after a tragic accident left her mother dead. She decides to change her life by enrolling in college, where she meets and develops an unexpected bond with her professor, Catherine (played by Allison McAtee).
The movie starts with Jackie's arrival in Bloomington, where she meets her new roommate, Catherine's teaching assistant, and Catherine herself. Jackie is welcomed with open arms by everyone, and she soon becomes a familiar face on campus. However, she finds it hard to fit in, as she is still trying to figure out who she is and what she wants from life.
As the movie progresses, Jackie becomes increasingly drawn to Catherine, who is going through a painful divorce. The two women form a close bond, and Jackie finds herself confiding in Catherine about her troubled past. Catherine, on the other hand, finds solace in Jackie's warmth and compassion, and the two start spending more time together, leading to sexual tension between them.
Catherine is a respected professor, and their relationship quickly becomes taboo in the conservative college community. Jackie is torn between her attraction to Catherine and her desire to fit in, and when their impulsive relationship starts to affect both of their lives, they are forced to confront their feelings for each other.
Bloomington is a thought-provoking film that explores the complexities of a taboo romance between a student and professor. The movie delves into the themes of love, boundaries, and identity, and how love can sometimes be found in unexpected places. The chemistry between McAtee and Stouffer is palpable, and their performances are raw and authentic.
The movie also boasts beautiful cinematography, with scenes of the lush Bloomington campus and surrounding nature adding to the film's calming and soothing tone. The soundtrack is also noteworthy, featuring mellow tunes that complement the movie's ambiance perfectly.
Bloomington is a great movie that manages to strike a balance between romance, drama, and character development. Director Fernanda Cardoso has done an excellent job in bringing the story to life, taking a controversial issue and presenting it in a sensitive yet compelling way. The movie's pace is steady, and the dialogue is thoughtfully written, adding depth to the characters and their situations.
In conclusion, Bloomington is a beautifully crafted movie that explores the complexities of a taboo relationship with sensitivity and depth. The movie boasts strong performances, stunning cinematography, and a gentle soundtrack that adds to the film's lush atmosphere. It's a movie that will leave viewers with a lot to ponder about love, boundaries, and the unexpected places where we can find it. Overall, Bloomington is a must-watch for anyone who loves heartfelt romantic dramas.
Bloomington is a 2010 romance movie with a runtime of 1 hour and 23 minutes. It has received moderate reviews from critics and viewers, who have given it an IMDb score of 5.8.