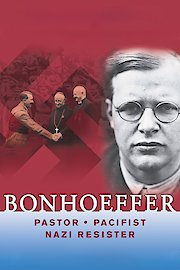 Watch Bonhoeffer
TV-14
2003
1 hr 32 min
"Bonhoeffer" is a powerful and thought-provoking documentary drama film that tells the remarkable story of Dietrich Bonhoeffer, a German Lutheran theologian, pastor, and anti-Nazi resistance fighter whose life and work continue to inspire people around the world. Directed by Martin Doblmeier, the film features an impressive cast of actors and scholars who bring to life the complex and challenging times in which Bonhoeffer lived and died.
At the heart of the film is the story of Bonhoeffer's courageous opposition to the Nazi regime and his involvement in various resistance movements, which ultimately led to his imprisonment and execution at the age of 39. The film skillfully interweaves reenactments of key events in Bonhoeffer's life with archival footage, photographs, and interviews with experts, including Bonhoeffer's close friend and biographer Eberhard Bethge, to present a rich and detailed account of his life and legacy.
The film opens with a dramatic depiction of Bonhoeffer's childhood and early years of study, highlighting his intellectual gifts and deep faith. Bonhoeffer's decision to become a pastor, and his subsequent journey to America to study at Union Theological Seminary, is portrayed as a pivotal moment in his life that exposed him to new ideas and challenges, including the growing threat of Hitler's regime in Germany.
As the film progresses, we see Bonhoeffer grappling with the theological and ethical questions posed by the rise of National Socialism, and his growing conviction that the church must stand up to the Nazis and resist their anti-Semitic policies. The film portrays Bonhoeffer as a man of great courage and conviction, willing to risk everything to protect the vulnerable and fight for justice.
One of the most poignant moments in the film comes when Bonhoeffer is implicated in the failed assassination attempt against Hitler in 1944, and is subsequently imprisoned at the Flossenbürg concentration camp. The film paints a harrowing picture of life in the camp, and shows how Bonhoeffer's faith and resilience inspired those around him, despite the constant threat of violence and death.
Throughout the film, we also see how Bonhoeffer's ideas about God, salvation, and the role of the church evolved over time, as he grappled with the challenges of his era. The film offers a nuanced and complex portrayal of Bonhoeffer as both a theologian and a political activist, showing how his faith informed and shaped his resistance to the Nazi regime.
"Bonhoeffer" is a deeply moving and engaging film that offers a compelling portrait of one of the most fascinating and inspiring figures of the 20th century. With its stunning cinematography, powerful performances, and insightful commentary, the film is sure to resonate with viewers of all ages and backgrounds, and inspire them to think deeply about the role of faith and courage in times of crisis.
Bonhoeffer is a 2003 documentary with a runtime of 1 hour and 32 minutes. It has received mostly positive reviews from critics and viewers, who have given it an IMDb score of 7.2.