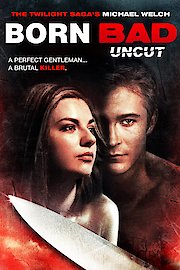 Watch Born Bad
"A perfect gentleman... a brutal killer."
TV-14
2011
1 hr 26 min
Born Bad is a crime thriller movie from 2011, directed by Jared Cohn. The movie follows a troubled teenage girl named Daria who is struggling to fit into her new high school. As the movie progresses, it becomes apparent that Daria's issues are rooted in her troubled past and dark family secrets. Meredith Monroe plays the role of Daria's mother, Melinda, who is a drug addict and irresponsible parent. Bonnie Dennison plays the older sister, Monica, who is trying to keep her family together while looking after her younger brother, Jimmy, played by Parker Coppins. Michael Welch plays the handsome and charming lead male character, Sam, whom Daria becomes infatuated with.
The plot of the movie starts with Daria getting expelled from her previous school and moving to a new one, where she struggles to make friends and fit in. She forms a connection with Sam, a popular and good-looking student who seemingly takes an interest in her. However, Sam has ulterior motives and is not what he seems. As Daria gets closer to Sam, she discovers shocking truths about her family's history and the secrets they have been hiding.
As the story unfolds, Daria becomes increasingly agitated and unstable, struggling to cope with the truth about her family's past. She uncovers events that lead to her becoming a troubled teenager and realizes that her family's issues are much deeper than she initially thought. Daria's behavior starts to spiral out of control, leading her to make reckless decisions that put her life and the lives of her loved ones in danger.
The movie is filled with tension and suspense, as Daria's past comes back to haunt her, and she learns the shocking truth about her family. The audience is taken on a thrilling journey with Daria, as she tries to uncover the secrets that have been kept from her for so long.
The performances in the movie are solid, with Meredith Monroe delivering a standout performance as the addict mother struggling with her addiction and trying to keep her family together. The chemistry between Bonnie Dennison and Parker Coppins, as siblings trying to make sense of their situation, feels genuine and heart-warming. Michael Welch delivers a convincing performance as the charming yet manipulative Sam.
The movie's cinematography and soundtrack complement the story well, creating a dark and eerie atmosphere that adds to the tension and suspense. Jared Cohn's directorial skills shine through, keeping the audience engaged and guessing until the very end.
In conclusion, Born Bad is an engaging and suspenseful crime thriller that explores the effects of a troubled family's past on the present. The movie has excellent performances, an exciting plot, and beautiful cinematography. It's a movie that will keep you guessing until the very end and leave you thinking about it long after the credits roll.
Born Bad is a 2011 thriller with a runtime of 1 hour and 26 minutes. It has received mostly poor reviews from critics and viewers, who have given it an IMDb score of 4.4.