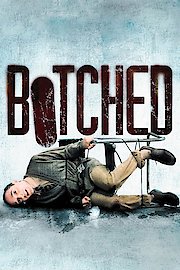 Watch Botched
"Russian Mafia, insane hostages, twin serial killers... Ritchie Donovan's luck has run out."
NR
2007
1 hr 34 min
Ritchie Donovan is a professional thief whose luck takes an extremely downward turn after he is the sole survivor of a failed heist. He is forced to take the rap, and is sent on a mission to Russia to steal a priceless antique cross locked in a safe inside a Moscow skyscraper. The high-rise robbery begins badly, when Donovan and his reckless Russian accomplices kill a woman, take hostages, and become trapped by authorities on the 13th floor. Things get worse, however: More people are killed, betrayals are committed, and descendants of Ivan the Terrible arrive on the scene. Starring Stephen Dorff ("World Trade Center," "fear dot com") at Ritchie Donovan, and produced by Steve Richards ("Kiss Kiss, Bang Bang," "The Matrix Reloaded").
Botched is a 2007 comedy with a runtime of 1 hour and 34 minutes. It has received moderate reviews from critics and viewers, who have given it an IMDb score of 5.6.