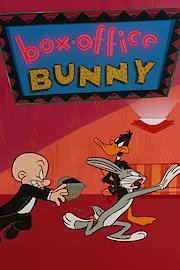 Watch Box-Office Bunny
Box-Office Bunny is a 1990 American animated short film, directed by Darrell Van Citters and produced by Warner Bros. Animation. The film features a host of Looney Tunes characters, with Bugs Bunny as the primary protagonist of the movie. The plot revolves around Bugs Bunny as he tries to find his way to the Warner Bros. Studio. Along the way, he becomes involved in a series of misadventures when he encounters a variety of eccentric and unpredictable individuals.
The film's title is derived from the central theme of the story, which is the idea of success and fame in the entertainment industry. Bugs Bunny is portrayed as an ambitious and driven character who is determined to make it big in Hollywood.
One of the key aspects of the movie is its humor. The film features a wide array of comedic situations and gags. The humor is largely derived from the character interactions, which are often so absurd and over-the-top that they are impossible to take seriously.
In addition to the humor, another major strength of the movie is the animation. The film features crisp and vibrant animation, with a strong attention to detail. The characters are drawn with a high level of expressiveness, which helps to bring their personalities to life on the screen.
One of the standout sequences in the movie is a musical number, which features Bugs Bunny performing a song and dance routine. The sequence is both entertaining and visually stunning, with a lot of energy and movement.
The voice acting is also a strong point of the movie. Jeff Bergman provides the voice for Bugs Bunny, and he does an excellent job of capturing the character's wit, charm, and humor. Jim Cummings and Tress MacNeille also deliver strong performances, bringing their supporting characters to life with enthusiasm and skill.
Overall, Box-Office Bunny is a fun and engaging animated short film that showcases the best qualities of the Looney Tunes franchise. With its clever writing, stunning animation, and memorable characters, it is sure to entertain audiences of all ages.