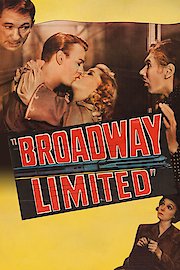 Watch Broadway Limited
"Hello Broadway, goodbye blues!"
Passed
1941
1 hr 15 min
Broadway Limited is a highly entertaining comedy-drama film from 1941 that follows a troupe of actors as they embark on a cross-country train journey from New York to Hollywood. Directed by Gordon Douglas and produced by Hal Roach, the film stars Victor McLaglen, Marjorie Woodworth, and Dennis O'Keefe in the lead roles. The story revolves around a group of struggling actors who are set to perform in a new play in Hollywood. They board the Broadway Limited train and quickly find themselves engulfed in a series of hilarious mishaps and adventures. Victor McLaglen plays a gruff and surly Broadway producer named Gordon Smith, who is traveling with his assistant and protégé, Danny (Dennis O'Keefe). Marjorie Woodworth plays the alluring and tempestuous Lily, who is seeking to advance her career in Hollywood. The film features a host of colorful characters, including a young honeymoon couple, a cigar-smoking millionaire, a talkative salesman, and a female boxer. The interactions and conflicts between the characters provide the movie with its comedic edge. The train journey is fraught with excitement and danger as the passengers encounter a number of obstacles along the way, including a runaway train, a train robbery, and a fire in the dining car. In each instance, the passengers must band together to overcome the obstacles and save the day. One of the highlights of the film is the comedic performances of McLaglen and O'Keefe. McLaglen brings his trademark gruffness and sarcasm to the role of Gordon Smith, while O'Keefe provides a charming and affable foil as Danny. Marjorie Woodworth delivers a sultry performance as Lily, who is not afraid to use her feminine wiles to get what she wants. The movie also features some impressive action sequences, particularly the train robbery scene, which is executed with precision and expertise. The filmmakers do a fantastic job of creating tension and suspense in these scenes, which keeps the audience engaged throughout the film. Overall, Broadway Limited is an enjoyable and engaging film that offers plenty of laughs and thrills. The performances by the lead actors are top-notch, and the supporting cast is equally impressive. The movie has a timeless quality that makes it a must-see for fans of classic comedies and classic cinema in general.