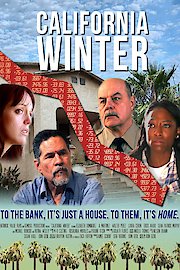 Watch California Winter
"To the banks, it's just a house. To them, it's a home."
2012
1 hr 22 min
California Winter is a poignant drama about the struggles of a family, particularly a couple whose relationship is tested by their individual challenges, financial problems, and emotional baggage. The movie, directed by Odin Ozdil, is set in the beautiful and bustling city of Los Angeles during the winter season, which serves as a contrast to the characters' inner turmoil and daily battles. The story revolves around Liz (played by Rutina Wesley), a struggling artist who works part-time at a café to make ends meet, and her boyfriend, Drew (Michael Ironside), an ex-con who is trying to start anew after spending time in prison. Liz, who is originally from the East Coast, is trying to establish herself as a graphic designer, but her dreams are stifled by the harsh reality of L.A.'s gig economy, where many artists and freelancers struggle to find consistent work. Drew, on the other hand, is haunted by his past mistakes and the stigma of being an ex-convict. He works as a handyman for an elderly Indian couple, played by Erick Avari and Sunkrish Bala, who become his only friends and confidants. Drew is a complex character who is torn between his desire to do the right thing and his survival instincts, which often lead him down a dangerous path. The couple's relationship is strained by their financial woes and their conflicting priorities. Liz wants to pursue her career and establish a stable life with Drew, while Drew is more focused on making quick money and avoiding trouble. The tension between them builds up as they navigate through a series of setbacks and temptations, such as an offer to sell drugs or a chance to steal from a wealthy client. The movie also features a cast of diverse and compelling supporting characters, such as Liz's boss (played by A Martinez), who is a kind-hearted but jaded photographer, and a homeless man (played by Tom Sizemore), who provides a sobering perspective on the city's harsh realities. The film's soundtrack, composed by Mark D'Errico, adds to the movie's melancholic and reflective tone, with songs that capture the characters' emotions and thoughts. California Winter is a raw and honest portrayal of the struggles of young people trying to make it in a city that can be both inspiring and unforgiving. The movie does not shy away from showing the characters' flaws and mistakes, but it also highlights their resilience and compassion. The film's pacing may seem slow at times, but it allows for a deeper understanding of the characters' motivations and struggles. Overall, California Winter is a movie that explores universal themes of love, ambition, and redemption, with a nuanced and compelling approach.