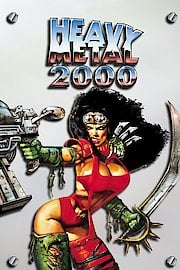 Watch Heavy Metal 2000
"not to survive the fight in the external world without inner strength"
R
2000
1 hr 28 min
"Heavy Metal 2000" is a sequel to the animated 1981 film "Heavy Metal". The original "Heavy Metal" gained a cult following, becoming popular enough to warrant a sequel. "Heavy Metal 2000" sought to attract and recapture the audience that had made the first film successful. The original "Heavy Metal" film was an anthology of different fantasy and science fiction stories. It was inspired by the magazine of the same name. Although animated films are often regarded as children's films, "Heavy Metal" contained a great deal of adult content, including graphic violence and sexual imagery. Unlike its predecessor, "Heavy Metal 2000" concentrates on just one story. The filmmakers decided that focusing on just one plot would be more effective this time around. Tyler - a miner living in a futuristic world with advanced technology and interstellar travel - discovers a green crystal and becomes obsessed with immortality. Tyler travels to a distant planet and kills most of its inhabitants, taking some of them hostage. Tyler discovers that there is a fountain of youth, and the planet's inhabitants have drank from it. However, Tyler mistakenly leaves a woman named Julie alive. She teams up with a man named Germaine, who was one of Tyler's hostages, to try to stop Tyler. Julie eventually discovers that her sister Kerrie is one of the hostages on Tyler's ship. Julie meets a man named Odin, who agrees to help her defeat Tyler and take control of the green crystal so it can no longer be used for evil purposes. The story is based on a graphic novel called "The Melting Pot". The novel was written and illustrated in 1993 and 1994. The story's popularity inspired the producers to use it for the film. "The Melting Pot" was eventually published in full in Heavy Metal magazine. The film retains the "heavy metal" 1980's rock music style of the previous film. It is deliberately designed to look like something that would have been made twenty years before it was actually released in 2000. It uses this style to appeal to nostalgic fans of the original film. Like its predecessor, "Heavy Metal 2000" is filled with rock music. Artists include Pantera, the Insane Clown Posse, System of a Down, Queens of the Stone Age, and Billy Idol. Idol also voices a character in the film, a man named Odin whose motives are not fully revealed until near the end of the film.