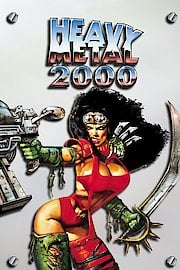 Watch Heavy Metal 2000
"not to survive the fight in the external world without inner strength"
R
2000
1 hr 28 min
In the year 2000, the animated film Heavy Metal 2000 hit theaters. It is a follow-up to the 1981 cult classic Heavy Metal, and it lives up to its predecessor's reputation for sexually charged and violent sci-fi fantasy. The movie begins with the opening sequence portraying a distant planet, where a beautiful and seductive warrior named Julie (voiced by Julie Strain) discovers one of the keys to the planet's ultimate weapon, the power to summon the Loc-Nar, a mysterious and powerful artifact. A greedy warrior named Tyler (voiced by Michael Ironside) sees the potential for profit and kills Julie for the key, taking it back to his home planet. Meanwhile, on a distant planet, struggling to survive in a harsh environment, a young woman named Kerrie decides to set off on an adventure after her father is murdered. She teams up with a gruff smuggler named Zeek, and as they travel the galaxy in search of the key, they encounter danger at almost every turn. Kerrie is a fierce fighter and becomes the subject of Tyler's obsession as he becomes determined to claim her as his own, at any cost. She soon discovers that she has a special power tied to the Loc-Nar and becomes the key to Tyler's plans for domination. As the story progresses, we learn more about the Loc-Nar and its potential for destruction. We also get glimpses into Kerrie's past, including an intense and disturbing scene where she is forced to fight for her life against a group of sexual predators. The film is filled with graphic violence, nudity, and sex scenes, making it very much an adult-only offering. The animation in Heavy Metal 2000 is impressive, with a mix of traditional 2D animation and computer-generated graphics. The sci-fi world created is visually striking, with imaginative alien creatures and a compelling story that keeps the viewer engaged throughout. The film features a rocking soundtrack with contributions from hard rock legends like Billy Idol and Pantera, further adding to the film's edgy, rebellious tone. The true standout of the film is Julie Strain's performance as the fierce and seductive warrior, Julie. Her commanding presence and sultry voice make her character an instant classic, and her demise early in the film is a shock to the audience. Michael Ironside also turns in a strong performance, expertly portraying the villainous Tyler as a calculating and brutal villain who is as equally driven by his lust for power as his obsession with Kerrie. Heavy Metal 2000 may not be everyone's cup of tea - its explicit content and bleak outlook on humanity may be too much for some - but its unapologetically nihilistic vision of the future and stunning animation make it an interesting and well-crafted addition to the world of adult animation.