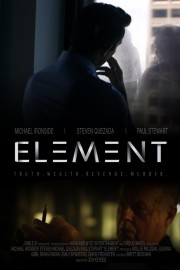 Watch Element
TV-MA
2016
1 hr 29 min
Element is a mysterious and thrilling science-fiction film that was released in 2016. The movie's cast is led by veteran actor Michael Ironside, who plays the lead role of Mason, an astronaut who's stranded on an alien planet. The premise of the movie involves Mason's journey to a strange, extraterrestrial world that presents him with numerous challenges. His primary goal is to locate a downed spaceship that he believes holds the key to his survival. Along the way, he encounters some strange, otherworldly creatures and must battle not only to survive but to unravel the mysteries that surround the planet he finds himself on.
The film's narrative is very cleverly structured, with the audience being gradually fed pieces of information about the story and the protagonist's past. Throughout the movie, we learn about Mason's relationship with his daughter, who is in a coma on Earth, and the guilt he carries over his failure to save her.
Aside from Michael Ironside, the cast includes other notable actors such as Steven Michael Quezada, who plays Richter, one of the crew members who has also crashed on the planet. Paul Stuart plays the captain of the spaceship Mason is searching for, and the rest of the cast is filled with capable supporting actors who help bring the story to life.
The cinematography of Element is breathtaking and gives the viewer a true sense of the alien environment Mason finds himself in. The special effects are top-notch and manage to create believable monsters and otherworldly landscapes.
As the movie progresses, the stakes get higher, and the tension builds. Mason must solve the riddle of the planet and find a way to escape before he runs out of time. Along the way, he's helped by Richter and some other characters he encounters, but ultimately his fate lies in his own hands.
The ending of the film provides a satisfying resolution to the story and leaves the viewer with a sense of optimism and hope.
The movie is an excellent example of a cinematic suspense thriller. It combines stunning visual effects with great performances from the cast to create a movie that keeps the audience on the edge of their seats throughout.
In conclusion, Element is a must-watch movie for fans of science-fiction and suspense thrillers. It combines great storytelling, stunning visuals, and top-notch performances to create an unforgettable movie experience. With its clever plot, exceptional cast, and beautiful visuals, this is a movie that will leave you thinking about it long after the credits roll.
Element is a 2016 drama with a runtime of 1 hour and 29 minutes. It has received mostly poor reviews from critics and viewers, who have given it an IMDb score of 3.4.