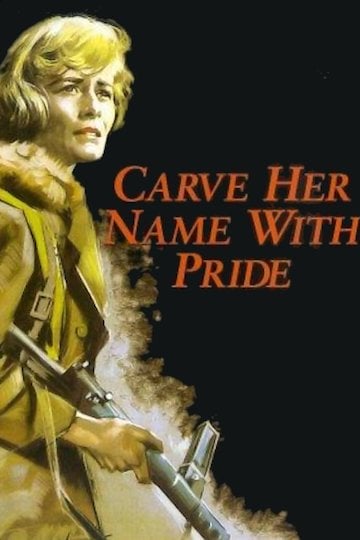 Watch Carve Her Name with Pride
NR
1958
1 hr 59 min
Carve Her Name with Pride is a 1958 British war drama film directed by Lewis Gilbert and starring Virginia McKenna, Paul Scofield, and Jack Warner. The film is based on the true story of Violette Szabo, a British clandestine agent during World War II. The movie begins with Violette Szabo (Virginia McKenna) as a young woman, working in a shop in London. She meets a French soldier, Etienne Szabo (Alain Saury), who is in London on leave. They fall in love, and soon after Violette becomes pregnant. They marry, but their happiness is short-lived as Etienne is sent back to war and is killed in action.
Violette is devastated by the loss of her husband and decides to join the Women's Auxiliary Air Force. But her desire to do something more for the war effort leads her to be recruited by the Special Operations Executive, a British intelligence agency. She is trained as a spy, learning skills such as wireless operation and sabotage.
Violette is then sent on a mission to France, where she is taken to a safe house run by a family of the Resistance. There, she meets Tony Fraser (Paul Scofield), another British agent who has already been working in France. The two of them work together to gather intelligence and carry out acts of sabotage against the Germans.
As the war rages on, Violette becomes increasingly important to the Resistance. She is sent on dangerous missions, including a raid on a German train carrying ammunition. Along the way, she is captured by the Germans but manages to keep her secrets from them.
Despite her success, Violette is eventually captured by the Germans and taken to a concentration camp. She endures months of torture and interrogation but refuses to give up any information about her fellow agents.
Carve Her Name with Pride is a powerful film that tells the story of a heroic woman who gave her life for her country. Virginia McKenna gives a remarkable performance as Violette Szabo, bringing to life the courage and determination of this remarkable woman.
The film manages to balance a sense of urgency and danger with quieter moments that allow the audience to get to know Violette and the other characters. There are moments of suspense as Violette and Tony carry out their missions under the watchful eye of the Germans. But the film also explores the friendships that develop between the agents and the people who help them in France.
The story of Violette Szabo is a tragic one, and the film handles it with sensitivity and respect. We see the toll that her work takes on her family, and we see the sacrifices she makes for her country. The film does not shy away from the brutality of the war or the horrors of the concentration camp where Violette is eventually taken.
Overall, Carve Her Name with Pride is a moving film that tells an important story. It is a tribute to the bravery and sacrifice of the women who served in the Special Operations Executive and the Resistance during World War II. The film is a reminder of the sacrifices that people made to fight for their countries and the importance of remembering their stories.
Carve Her Name with Pride is a 1958 drama with a runtime of 1 hour and 59 minutes. It has received mostly positive reviews from critics and viewers, who have given it an IMDb score of 7.2.