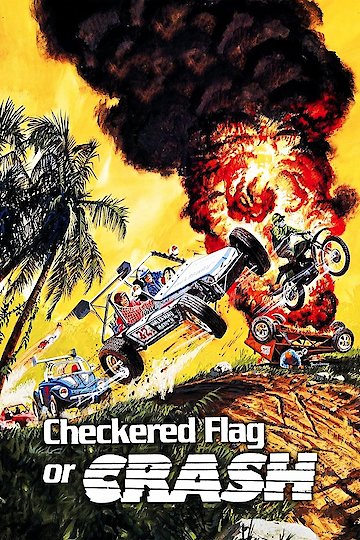 Watch Checkered Flag or Crash
"You Gotta Be TOUGH To Win... And CRAZY To Try!"
PG
1978
1 hr 35 min
Joe Don Baker stars in the 1977 action film Checkered Flag or Crash, a movie that follows the story of race car driver Rick Bowman as he battles his way to the top of the profession. Along the way, he faces fierce competition, dangerous accidents, and powerful enemies who will stop at nothing to see him fail. The film is set in the world of stock car racing, a high-stakes, high-speed sport where only the best survive. Bowman is a talented driver with a passion for the sport and a determination to win at any cost. He is a risk-taker who is willing to push himself and his car to the limit in pursuit of victory. As the movie begins, Bowman is struggling to make a name for himself on the racing circuit. He has a few small victories under his belt, but he knows that in order to succeed in the cutthroat world of stock car racing, he needs to do something extraordinary. Enter Susan Sarandon, who plays the role of C.C. Wainwright, a wealthy entrepreneur who sees potential in Bowman and decides to back him financially. With her support, Bowman is able to upgrade his car, hire a top-notch crew, and compete in some of the biggest races of the season. But as Bowman's star begins to rise, he also finds himself making powerful enemies. Larry Hagman plays the role of Buzz Stafford, a rival driver who will stop at nothing to prevent Bowman from winning. He employs dirty tactics to sabotage Bowman's car and even goes as far as to put his life in danger. The tension between Bowman and Stafford builds throughout the movie, culminating in a dramatic climax that will keep viewers on the edge of their seats. But Checkered Flag or Crash is more than just a movie about racing - it's also a story about the strength of the human spirit, and the lengths that people will go to achieve their goals. Baker gives a strong performance as Bowman, conveying both the intense physicality of stock car racing and the emotional depth of his character. Sarandon is also excellent as the tough-but-tender C.C., who proves to be a valuable ally to Bowman both on and off the track. And Hagman is suitably villainous as Stafford, a man who will do anything to win. The action sequences in Checkered Flag or Crash are thrilling and well-executed, with plenty of high-speed chases and heart-pumping crashes. But the movie also takes time to explore the human side of the sport, showing the toll that racing can take on both the body and the mind. Ultimately, Checkered Flag or Crash is a movie that will appeal to fans of both action and sports films. With its strong cast, exciting racing scenes, and compelling storyline, it's a movie that stands the test of time and continues to entertain audiences today.