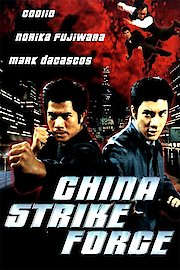 Watch China Strike Force
"Extortion. Murder. Revenge."
R
2000
1 hr 32 min
China Strike Force is an action movie. It deals with the subjects of drug smuggling and corruption. A Chinese officer is part of a team tasked with rooting out corruption and stopping drug smuggling. There is an Interpol agent whose mission is to collaborate with the Chinese to stop a drug smuggling ring. These two work together to get the evidence and arrest those responsible. During the course of their work they suspect the daughter of a government official. Crime and corruption are large problems in many societies. Drug smuggling has cost many lives and is part of that corruption. These two must stop both.