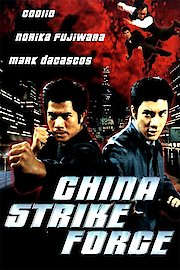 Watch China Strike Force
"Extortion. Murder. Revenge."
R
2000
1 hr 32 min
China Strike Force is an action-packed movie that was released in 2000. It stars a number of popular actors, including Aaron Kwok and Norika Fujiwara, and features intense fight sequences and an intricate plot. The movie is set in Hong Kong and focuses on a team of police officers who are tasked with bringing down a major drug trafficking ring. The team is led by Captain Ching (played by Aaron Kwok), a tough and dedicated officer who will stop at nothing to get the job done. He is joined by Inspector Ma (played by Leehom Wang), a young and ambitious officer who is eager to prove himself. As the team begins their investigation, they soon realize that the drug ring they are after is more dangerous and powerful than they had originally thought. The group is led by a ruthless kingpin known only as "The Godfather," who will stop at nothing to protect his empire. Along the way, Ching and Ma enlist the help of a beautiful Japanese cop named Yoda (played by Norika Fujiwara). Yoda is tough and skilled, and she quickly becomes an integral part of the team. Together, the three officers embark on a dangerous mission to bring down the drug lord and his operation. Throughout the film, viewers are treated to a series of high-stakes action scenes. There are gunfights, car chases, and hand-to-hand combat scenes that will keep audiences on the edge of their seats. The fight sequences are expertly choreographed and executed, making them some of the most impressive scenes in the movie. Despite the intense action, the movie also delves into the personal lives of the characters. We learn about their motivations and struggles, which help to flesh out the story and make the characters more relatable. In particular, Ching's complicated relationship with his ex-wife adds an emotional depth to the story. Overall, China Strike Force is an entertaining and thrilling movie that delivers on its promise of intense action. The chemistry between the three main characters is palpable, and the fight scenes are expertly executed. Fans of action movies will not be disappointed with this one.