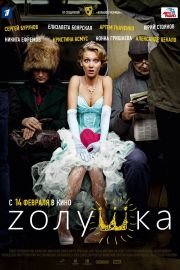 Watch Cinderella
Cinderella, a timeless fairytale filled with enchantment, romance, and happy endings, has been beautifully brought to life in this magical animated adaptation starring Karen Strassman, Matt Mercer, and Jessica Gee-George. This beloved classic tale follows the journey of a young girl who overcomes adversity and finds her true destiny with the help of a little bit of magic.
The story revolves around Cinderella, a kind-hearted and caged spirit forced to live under the oppressive rule of her stepmother and her two stepsisters. Following the tragic loss of her father, Cinderella is left at the mercy of her cruel and jealous family, reduced to the role of a mere servant in her own home. Despite her situation, Cinderella remains hopeful and dreams of a better future, yearning for a life where she can be free and find happiness.
Enter the Fairy Godmother, a wise and whimsical character who sprinkles her enchanting touch upon Cinderella's life. Through a mix of magic and guidance, she transforms a simple pumpkin into a magnificent carriage, ordinary mice into elegant horses, and Cinderella's tattered rags into a stunning gown. These changes serve as a physical manifestation of Cinderella's inner transformation, as she is now ready to attend the royal ball and meet her prince, breaking free from the shackles that bind her.
At the grand ball, Cinderella captivates everyone with her beauty, grace, and charm, catching the eye of Prince Charming. The prince, longing for a connection that transcends superficiality, finds himself inexplicably drawn to this captivating young woman. Unaware of her true identity, Prince Charming embarks on a quest to find the mysterious lady he met, using her misplaced glass slipper as the key to her heart.
Meanwhile, back at home, Cinderella's stepmother and stepsisters scheme and plot, desperate to secure a place in the prince's heart for themselves. Their jealousy and greed fuel their actions, leading to unexpected twists and turns that threaten to sabotage Cinderella's happily ever after.
The animation in this adaptation breathes new life into the story, capturing the essence of a fairytale world with its vibrant colors, sweeping landscapes, and meticulously crafted characters. The voice talents of Karen Strassman, Matt Mercer, and Jessica Gee-George bring depth and emotion to their respective roles, immersing audiences in the magical realm of Cinderella.
What sets this rendition of Cinderella apart is its focus on character development and the exploration of inner strength. Throughout the film, viewers witness Cinderella's resilience, compassion, and unwavering faith in the face of adversity. It is through these qualities that Cinderella becomes a relatable and empowering figure, encouraging audiences to have faith in themselves and their dreams, no matter the circumstances they find themselves in.
As the story unfolds, Cinderella's journey resonates with themes of love, self-discovery, and the importance of staying true to oneself. It reminds us that true beauty lies within, regardless of one's social status or external appearances. Love, in all its forms, is portrayed as a transformative force capable of breaking down barriers and triumphing over adversity.
Cinderella is a spellbinding tale that transports audiences to a world where dreams come true. It captivates the hearts of viewers both young and old, rekindling the magic and wonder of the original fairytale while infusing it with fresh perspectives and compelling storytelling. This adaptation serves as a reminder that, with a little bit of magic and a lot of courage, anyone can create their own path to happily ever after.
No data exists.
Cinderella is a 2012 animated movie with a runtime of 1 hour and 21 minutes.