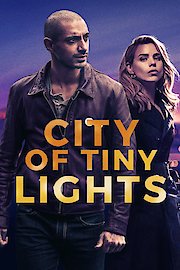 Watch City of Tiny Lights
"Some secrets should remain buried"
NR
2016
1 hr 51 min
55
City of Tiny Lights is a neo-noir crime thriller set in the sprawling city of London. The movie follows the story of Tommy Akhtar, a cynical private investigator, played by Riz Ahmed. He is approached by a high-class sex worker named Melody (Billie Piper) to find her missing roommate. Akhtar initially refuses her offer, but when a friend of his is killed, he starts to unravel a web of conspiracy that leads him to uncover secrets about his own past. The plot of City of Tiny Lights takes place in contemporary London, featuring a diverse cast of characters from different backgrounds. The movie captures the city in a unique way, depicting its vastness, random connections, and dirty underbelly that lies beneath the glitz and glamour. Akhtar is a classic noir anti-hero, disillusioned by the complexities of the world he inhabits. He is sharp-witted, resourceful, and yet deeply flawed, haunted by his past mistakes. Riz Ahmed's portrayal of Tommy Akhtar is the centerpiece of the movie, and he delivers a fantastic performance, imbuing his character with a sense of pathos and gravitas. Billie Piper is equally impressive as Melody, portraying a character who is vulnerable yet resilient, caught up in a world that offers her few choices. James Krishna Floyd delivers a standout performance as Akhtar's childhood friend, Lovely, whose death sets off the chain of events that drives the plot forward. Director Pete Travis has crafted a stylish and atmospheric movie, capturing the neon-lit streets, dark alleyways, and bustling markets of London in exquisite detail. The movie's cinematography, sound design, and editing are all top-notch, creating a brooding and immersive atmosphere that keeps the viewers engaged throughout. The movie also features a haunting and evocative score by Ruth Barrett that adds to the movie's overall ambiance. City of Tiny Lights is not just a crime thriller; it also deals with themes like identity, ethnicity, and cultural assimilation. Tommy Akhtar is a second-generation Pakistani immigrant, caught between two worlds, struggling to come to terms with his own identity. The movie also delves into the racial tensions that exist in contemporary London, highlighting the prejudices and stereotypes that different ethnic communities confront. The movie has its share of twists and turns, keeping the viewers on the edge of their seats throughout. City of Tiny Lights is a gripping and engaging movie, filled with memorable characters, intricate plotting, and a fascinating backdrop. It is a well-crafted and thought-provoking crime thriller that will appeal to fans of the genre and anyone who appreciates a solidly crafted movie.