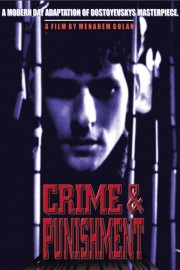 Watch Crime and Punishment
NR
2002
2 hr 6 min
Crime and Punishment is a 2002 adaptation of Fyodor Dostoevsky's classic novel of the same name. The film is directed by Menahem Golan and stars Crispin Glover as Raskolnikov, Vanessa Redgrave as Porfiry, and John Hurt as Marmeladov. Set in St. Petersburg, Russia, in the mid 19th century, the film follows the story of Raskolnikov, a poor former law student who is struggling to make ends meet. Raskolnikov is a brooding and intense character who is consumed by his own thoughts and beliefs. He is convinced that there are two types of people in the world: those who are extraordinary and those who are ordinary. He believes that the extraordinary are exempt from moral laws and that they have the right to commit crime if it is for a higher purpose.
The film explores Raskolnikov's moral and psychological struggles as he decides to put his theory to the test and murders an old pawnbroker and her sister. After committing the crime, Raskolnikov is wracked with guilt and paranoia. He becomes feverish and delirious, haunted by the ghosts of his victims and consumed by fear that he will be caught.
Enter Porfiry Petrovich, a cunning and experienced police detective who suspects Raskolnikov of the crime. Porfiry is a master of psychological manipulation and he uses his skills to try and get Raskolnikov to confess. Vanessa Redgrave shines in her portrayal of Porfiry, delivering a nuanced and captivating performance.
As Raskolnikov's mental and emotional state deteriorates, he becomes more and more desperate. He seeks solace in the arms of Sonia, a young prostitute played by Sonia Sarpe. Sonia is a deeply religious woman who speaks to Raskolnikov about the power of redemption and forgiveness. Sonia is a symbol of hope and purity in a world filled with darkness and corruption.
John Hurt's performance as Marmeladov, a drunken and destitute father, is also noteworthy. Marmeladov is a tragic figure who embodies the poverty and suffering of the lower classes in Russia. Hurt brings a sense of pathos and vulnerability to the character, making him both sympathetic and pitiable.
The film is shot in an atmospheric and moody style, with lots of dark and shadowy scenes that capture the sense of foreboding and unease. The score, composed by Vladimir Cosma, is haunting and evocative.
Overall, Crime and Punishment is a masterful adaptation of Dostoevsky's novel. The film captures the essence of the story while also adding its own unique perspective. The performances are uniformly excellent, with Crispin Glover delivering a gripping and intense portrayal of Raskolnikov. The film is a must-see for fans of the novel and for anyone who appreciates great cinema.
Crime and Punishment is a 2002 drama with a runtime of 2 hours and 6 minutes. It has received moderate reviews from critics and viewers, who have given it an IMDb score of 5.6.