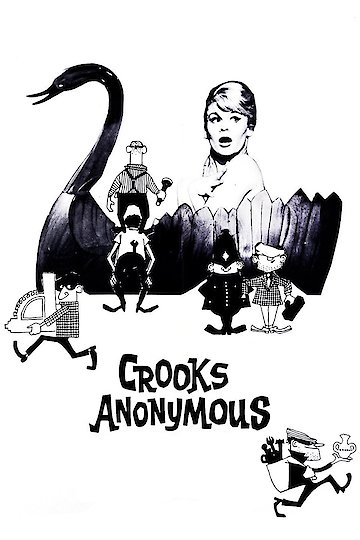 Watch Crooks Anonymous
"No one ever turned on the HEAT and HILARITY Like "Crooks Anonymous""
1963
1 hr 28 min
Crooks Anonymous is a British comedy film, released in 1962, that follows the story of a group of habitual criminals who attend a therapy group to help them overcome their addiction to crime. Directed by Ken Annakin and starring Leslie Phillips, Stanley Baxter and Wilfrid Hyde-White, the film combines witty dialogue with occasional moments of slapstick humor to create an entertaining and light-hearted experience for viewers. The plot centers on John Chillingworth (Leslie Phillips), a suave, successful crook who is tired of living in constant fear of the law catching up with him. Seeking a way out, he discovers a group of fellow criminals who have banded together to form a self-help organization called Crooks Anonymous, which aims to cure them of their criminal tendencies. John initially scoffs at the idea, but eventually joins the group in the hopes of reforming himself and starting a new life. At the group's meetings, John meets a host of colorful characters, including the bumbling Sniffy Carter (Stanley Baxter), the lovable rogue Henry Augustus (Wilfrid Hyde-White), and the uptight tea heiress Elizabeth Travers (Julie Christie). As they share their stories and struggles, John begins to connect with them and see them as more than mere criminals. However, their resolve is tested when they are drawn into a daring heist, and must choose between their old ways and their newfound commitment to honesty. The movie is a witty, charmingly quirky take on the classic heist movie formula. The film's humor ranges from subtle to silly, but never feels forced or out of place. The script is cleverly written, with fast-paced banter and clever one-liners that keep the audience engaged throughout. The characters are well-drawn, and the performances from the cast are all top-notch. Phillips is charming as the debonair leading man, while Baxter and Hyde-White provide excellent comedic support. One of the film's strengths is that it doesn't take itself too seriously. The film's tongue-in-cheek approach to its subject matter adds to the overall sense of fun, and prevents the story from becoming bogged down in heavy-handed moralizing. While the film does touch on issues of redemption and personal growth, it is primarily an escapist comedy that simply aims to entertain. Despite its slightly dated feel, Crooks Anonymous holds up surprisingly well over 50 years later. The film's themes of self-improvement and second chances remain relevant, and the humor is still as enjoyable now as it was in the 60s. Overall, Crooks Anonymous is a delightful, light-hearted romp that is sure to please fans of classic British comedy.