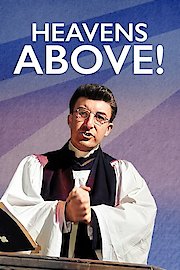 Watch Heavens Above!
"Where "I'm All Right Jack" left off…this takes off!"
NR
1963
1 hr 53 min
Heavens Above! is a 1963 satirical comedy movie directed by John Boulting and written by Frank Harvey, John Boulting, and Alan Hackney. Starring Peter Sellers, Cecil Parker, and Isabel Jeans, the film is a social commentary that showcases the lives of a wealthy community in the countryside, and how their lives change when a new vicar comes to their town.
The movie centers around Reverend John Smallwood (Peter Sellers), a socialist minister who is mistakenly appointed to a wealthy Episcopalian parish in the small town of Orbiston Parva. The small-minded church officials, who thought they were appointing a traditional vicar to the post, are scandalized by the behavior and the ideas of the new minister. Reverend Smallwood preaches a gospel of love, compassion, and generosity, and he practices what he preaches, giving away all of his money and using the church's money to fund charitable and humanitarian causes.
Smallwood's actions make him popular with the working-class people of the town, who are grateful for his practical help and his non-judgmental attitude. However, the elite of Orbiston Parva are outraged by Smallwood's behavior, and they set out to undermine him and force him to conform to their traditional expectations. The schemes they concoct become more and more absurd and lead to hilarious consequences.
The film's star, Peter Sellers, is at his comedic best in this movie, playing a character that is both innocent and naive, yet stubborn and determined. The character of Reverend Smallwood captures the contradiction of a man of the cloth who is at odds with the decadent excesses of the wealthy in his community. Sellers brings out the nuances of the character beautifully, portraying him as someone who is genuine in his beliefs and who is honest in his desires to help the less fortunate.
Cecil Parker plays the role of Archdeacon Aspinall, Smallwood's superior in the church hierarchy, who becomes increasingly agitated by the radical activities of the new vicar. Parker's performance is both humorous and dramatic, as he struggles to maintain the traditional views of the church while also recognizing the merit of Smallwood's philanthropic activities.
Isabel Jeans plays the role of Lady Despard, a wealthy benefactor who considers herself a pillar of the community, and who is horrified by the activities of the new vicar. Jeans provides a memorable portrayal of a woman who is filled with disgust for the poor and who is dedicated to keeping them in their place. Her scenes with Sellers are particularly entertaining, as the two characters are polar opposites and their interactions are both funny and enlightening.
The film's themes of social justice, poverty, inequality, and the conflict between traditional and progressive values are still relevant today, making this movie an important commentary on society's ongoing struggles with these issues. The movie is a window into a different time and place, and it offers an opportunity to look at the present through a lens that brings the past into focus.
Overall, Heavens Above! is a delightful movie that showcases the best of British humor, satire, and social commentary. The film's stellar cast, witty dialogue, and clever plot make it an enjoyable watch, and the message that it carries is one that resonates with audiences of all eras.
Heavens Above! is a 1963 comedy with a runtime of 1 hour and 53 minutes. It has received mostly positive reviews from critics and viewers, who have given it an IMDb score of 6.7.