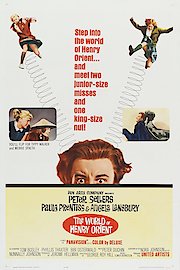 Watch The World of Henry Orient
"Step into the world of Henry Orient...and meet two junior-size misses and one king-size nut!"
Approved
1964
1 hr 46 min
This motion picture is the hilarious story of Mr. Henry Orient, who is a concert pianist. He is having two affairs with married women, and living the life of a major celebrity. Everything is going relatively smooth until two teenage girls discover Henry Orient and suddenly have a crush on him. Together they pledge that, except for doing homework, they will dedicate their lives to making themselves a major part of the world of Henry Orient their sole mission in life. It is this major crush that leads them to make the life of Mr. Orient turned upside down forever.