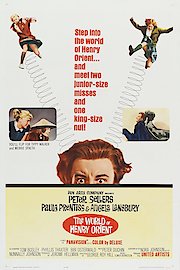 Watch The World of Henry Orient
"Step into the world of Henry Orient...and meet two junior-size misses and one king-size nut!"
Approved
1964
1 hr 46 min
Set in New York City, "The World of Henry Orient" was released in 1964 and directed by George Roy Hill. The film tells the story of two teenage girls, Val and Marian, who become infatuated with a world-famous pianist named Henry Orient. Peter Sellers plays the eccentric pianist Henry Orient, who is the subject of the two girls' obsession. Tippy Walker and Merrie Spaeth play Val and Marian, respectively, who are best friends and attend a private school in Manhattan. The two girls are bored with their lives and seek excitement and adventure, which they find in Henry Orient. The movie begins with Val and Marian spotting Henry Orient in Central Park and becoming captivated by him. They begin following him and attending his concerts, eventually taking pictures of him and trying to get close to him. Henry, meanwhile, is self-absorbed and unaware of the girls' interest in him. As Val and Marian continue to pursue Henry, the relationship between the two friends becomes strained. Val becomes more obsessed with Henry, while Marian becomes disillusioned with him and their friendship. The movie explores the complexities of teenage friendships and the ways in which they are tested by the external world. Throughout the film, there are moments of humor and levity, particularly in Peter Sellers' portrayal of Henry Orient. Sellers brings his trademark wit and physical comedy to the role, making it one of his most memorable performances. The film also features a memorable score by legendary composer Elmer Bernstein, which perfectly captures the mood of the story. While "The World of Henry Orient" is primarily a coming-of-age story about two teenage girls, it also comments on the nature of celebrity and the way in which it can both inspire and corrupt. Henry Orient is a flawed character, and his interactions with Val and Marian reveal the darker side of his fame and success. Overall, "The World of Henry Orient" is a charming and engaging film that captures the zeitgeist of the 1960s. It touches on themes of friendship, obsession, fame, and adolescence in a way that is both timeless and relevant. Fans of Peter Sellers will delight in his performance as Henry Orient, which is both hilarious and heartwarming.