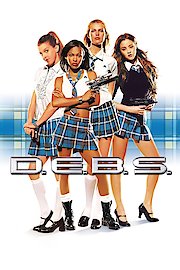 Watch D.E.B.S.
PG-13
2005
1 hr 31 min
42
D.E.B.S., which stands for Discipline, Energy, Beauty, Strength, is a comedy-action movie released in 2004. The story is about a secret government agency that trains young women to become elite spies. Sally, Amy, Max, and Janet are the top four recruits who work as a team but often compete against each other to earn the highest score.
The movie begins with a big mission proposal where the women have to find and capture the leader of a criminal organization known as the Scud missiles. The leader, Lucy Diamond (Jordana Brewster), is planning to steal a diamond. The D.E.B.S. have to stop her from doing so. The film showcases how these women balance their mission with their personal lives without anyone knowing about their other job.
Sara Foster plays the role of Amy Bradshaw, who is the leader of the D.E.B.S squad. She is a confident and nerdy girl who has a crush on Lucy Diamond. She doesn't realize that her crush could jeopardize their mission. Jordana Brewster plays the role of Lucy Diamond, who's a criminal mastermind despite her beautiful looks. Her plan always seems to be one step ahead of the D.E.B.S. Devon Aoki plays the role of Dominique, who is the henchwoman of Lucy.
The story of D.E.B.S. revolves around Amy and Lucy's not so ordinary love story. Amy and Lucy's meeting was an accident at a cafe, where Lucy mistook Amy for someone else. At the café, they exchanged numbers and planned a date. Later on, when Amy realizes Lucy's real identity, she couldn't help but feel torn between duty and love. The movie tries to depict that even spies can fall in love and still do their jobs.
The film's director, Angela Robinson, infused a lot of humor into the script, making it feel like a parody of spy movies. The film's humor is evident in how it portrays Lucy Diamond's overly dramatic way of doing things. From her lair to her hideouts, everything seems like it is ripped straight out of a James Bond movie. The whole premise of training female spies to look, dress, and act like schoolgirls is also a humorous nod to the "Male Gaze" trope that's common in movies.
The soundtrack of the movie is equally compelling, with a variety of songs from pop to rock. The music adds a lighter tone to an otherwise serious spy movie. The film's use of color also adds to the comic book-like aesthetics.
The movie was highly appreciated by the LGBTQ community, as it was the first mainstream lesbian action movie. Its representation of a same-sex romance is laudable as it offers a fresh perspective on spy movies. The film's romantic storyline doesn't feel forced, and it's also not explicitly sexual, making it a movie suitable for all audiences.
In conclusion, D.E.B.S. is a fun-filled action-comedy movie with exceptional performances from all its actors. The humor, soundtrack, and color palette come together to create a visually stunning movie. Its representation of female spies and their love story is refreshing and a step towards inclusivity in mainstream movies. The film's underlying message of balancing personal life while achieving professional goals is relatable to everyone. If you're looking for a lighthearted movie that's entertaining, fun, and heartwarming, D.E.B.S. is highly recommended.
D.E.B.S. is a 2005 action movie with a runtime of 1 hour and 31 minutes. It has received mostly poor reviews from critics and viewers, who have given it an IMDb score of 5.4 and a MetaScore of 42.