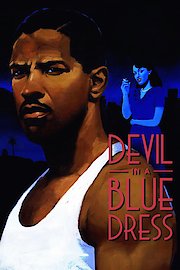 Watch Devil in a Blue Dress
"Private detective Easy Rawlins has been caught on the wrong side of the most dangerous secret in town."
R
1995
1 hr 42 min
78
Devil in a Blue Dress is a neo noir, hard boiled crime fiction thriller starring, Denzel Washington, Tom Sizemore, Don Cheadle and Jennifer Beals. The film was directed by Carl Franklin and based on the crime novel of the same name by Walter Mosely who was a executive producer on the project. Carl Franklin is reported to have said that he thought the novel was more than just a exercise in the noir fiction genre and had something important to say about society, specifically race relations. The story follows Easy Rawlins, played by Washington, a former World War II vet who becomes a private eye to pay his bills, despite the fact that he has no formal training. He is hired by an eccentric and dangerous man named Albright who wishes for Easy to locate a white woman named Daphne Monet, portrayed by Jennifer Beals. Easy enlists the help of his friend Mouse, played with sadistic relish by Don Cheadle, to track down the woman. On their way they are caught up in crime after crime, eventually culminating in several murders.