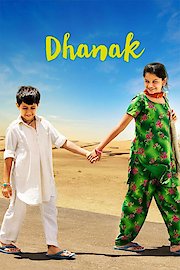 Watch Dhanak
2015
1 hr 46 min
Dhanak is a 2015 Indian film directed by Nagesh Kukunoor. The movie stars Krrish Chhabria and Hetal Gada in lead roles, along with Vipin Sharma in a supporting role. The film centers around the story of two siblings - eight-year-old Pari (Hetal Gada) and her little brother, Chotu (Krrish Chhabria). The movie is set in the Rajasthan village of Jaisalmer, where Pari and Chotu live with their uncle and aunt after their parents' death. Chotu is blind and is highly dependant on Pari for everything. Pari is determined to restore Chotu's eyesight and is convinced that their favorite Bollywood actor, Shah Rukh Khan, will help her fulfill her wish.
One day, Pari hears on the radio that Shah Rukh Khan is shooting a movie in a nearby village. She believes that if she can just get Chotu to the movie set, Shah Rukh Khan will take care of everything. Despite their uncle's warnings that it's impossible, Pari sets out on a journey with Chotu across Rajasthan to find their hero.
During their journey, they face several challenges, including hunger, thirst, dangerous wildlife, and a gang of thieves. But Pari is determined and resourceful, and soon they meet several kind-hearted people who help them on their quest. They meet a truck driver who takes them to a storyteller, a kind lady who feeds them when they're hungry, and a magician who performs magic tricks to surprise Chotu.
Through all these experiences, Pari and Chotu's relationship grows stronger, and they discover the power of hope and determination. As they approach their destination, they realize that there's more to their journey than just finding Shah Rukh Khan, and that they've already found something much more important - their own strength and resilience.
Dhanak is a heartwarming movie that celebrates the bond between siblings and showcases the beauty of Rajasthan's landscapes and culture. The film also touches upon issues of blindness, poverty, and social inequality, but does so in a sensitive and positive manner. The young actors, Hetal Gada and Krrish Chhabria, deliver impressive performances and carry the movie on their young shoulders. Vipin Sharma shines in his supporting role as a supportive uncle who struggles to raise his niece and nephew.
The film's music, composed by Tapas Relia, adds to the movie's charm, with several upbeat and catchy songs. The cinematography by Chirantan Das captures the beauty of Rajasthan with stunning visuals.
In conclusion, Dhanak is a delightful and inspiring movie that appeals to audiences of all ages. Its positive message of hope and determination will leave a lasting impression on viewers, and its performances and storytelling make it a must-watch for anyone who loves heartwarming dramas.
Dhanak is a 2015 drama with a runtime of 1 hour and 46 minutes. It has received mostly positive reviews from critics and viewers, who have given it an IMDb score of 7.8.